Today's news included the final day of play at the Oakland Hills South Course for nearly two years, as Gil Hanse sets in to renovate the course…probably ramping it up for a potential U.S. Open pitch in the decade to come. Is this necessarily good news? Hopefully, but maybe not. The Scioto Country Club, near to BPBM headquarters, has recently announced a total remodel to restore its Rossiness. On one hand, it's a bit of a mislead; most of these restorations will be implemented to address member concerns following the previous round of work, which were made to host the U.S. Senior Open during 2016. Still, we should feel grateful that memberships are seeing fit to maintain Ross's signature on his layouts at all.
It hasn't always been the case. While Scioto's last round of edits came in an effort to challenge pros, many of the Scot's courses have met a muting of his personality for what can essentially be filtered down into two camps: apathy and, of course, budget.
Shennecossett Golf Club in Groton, CT has had ups and downs, like all munis, but it's currently sitting in a very "up" place. It's not 100% Donald: Nos. 8, 9, 15, 16, and 17 are all new additions from Mark Mungeam, created when a land-swap with the Pfizer corporation left "Royal Shenny" with some routing work to figure out, and an excellent plot where the Thames meets the Atlantic. Even then, Mungeam went hard for Ross, whether it's the crowned features at No. 16's green, or the Redan-style Par 3 at No. 9.
As for keeping the rest of the land playing like a Ross at municipal prices (it's the only public Ross in the state)? That's planning, work, and passion from two individuals. We spoke to Eric Morrison—the superintendent for nearly 20 years—and Tim Gerrish, the architect who has handled Shenny's renovation projects for most of that period, and the result is this quasi-"oral history" on maintaining a classic golf course with muni money for a public audience.
First thing's first…Oakland Hills and Pinehurst have money to do total overhauls over long periods of time. Shennecossett, and the majority of municipal courses, don't.
TIM: A lot of it is you have "X" amount of dollars, which is five digits, not six or seven. You gotta phase, "what can we do that's not crazy, doesn't disturb a whole bunch of area?" What's going to be done, not leaving something left over for next year. You don't want to take a couple years on a "phase" because they won't approve the money. Time flies, right? It's the best we can do with the money that we have for the area that we've got. Eric and I will discuss, go back and forth over what comes next.
Phasing has to be difficult, considering the amount of bunkers Shennecossett has. Tim guesses that there are 95 bunkers…
ERIC: 100. It's either 100 or 101. I'd have to recount. It is definitely three digits. There's a longtime claim among some of our older players that there were at one time 160 bunkers on this course. I cannot find proof of that.
TIM: That's a lot of bunkers. And they're not 10-by-20. They's all 20-by-80. It costs a lot to restore. If somebody says "we only have $2 million, we don't have $2.25…"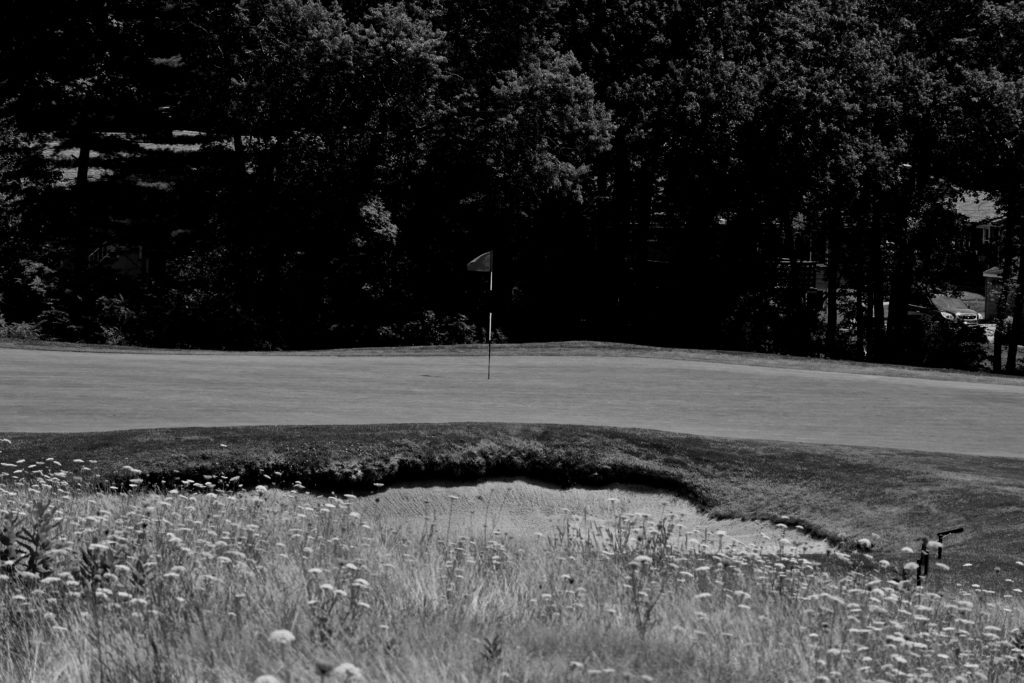 Oof. How does a course decide which ones get the attention?
ERIC: We have a few bunkers out here that we haven't been able to do much with, and they look like the surface of the moon too, with all the little pebbles in 'em. You can move those now, according to the rules of golf. We'll get to it someday. We don't have the resources to get to them all. Like I said, I've been here 19 years and we've got some bunkers we haven't done anything to, except add a little sand and edge 'em every few years.
Alright, so let's clarify early what Shenny is basing its work on…
ERIC: I have aerials from '34, I have aerials from '65, and you see what we got now.
TIM: [Eric's] super passionate about the history and the genealogy of the course, and he's dug into old bags of magazines and old photographs of the hotel before the fire, or before the hurricane came through. We've got photographs of what this looks like, and what that looks like, so we kinda base it on that and do what we can in terms of "here's what the bunker shape looks like." Very little if any change out there, so minus erosion and maintenance, you can see "this is kinda where the bunker was." A couple feet here and a couple feet there…There are definitely levels of plans that have been around. Not a lot of details, not Ross hole plans—nobody's ever found those—but there are various levels of routing. I value plans at some level, but I'm always going to value what's on the ground first. But those aerial photographs help for sure.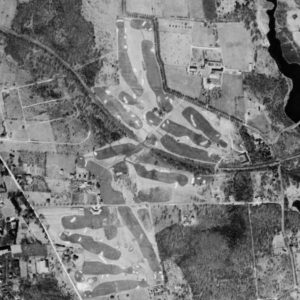 Now, to clarify, BPBM totally aimed to focus these interviews on the restoration of cross bunkers—these guys, and totally not my own unfocused interviewing skills, led us astray. So let's get back to it. The Donald Ross Society lists cross bunker abandonment as one of the biggest threats to Ross designs. This pair is focused on No. 14 this fall, which features a cross bunker 328 from the back tee (290 from standard), and 80-90 yards out from the green.
TIM: I will say, because it's interesting, when Mr. Ross did it, pretty sure that bunker was out of play for most people. From the back tee, it's a poke to get out there. Without irrigation—and some of the young guys like to hit it a little farther—they can roll it there. So I've said let's try try to lift the left side of the bunker just a touch, and I think it's about six inches…and you're never gonna be able to see sand, but we might plug a few little fescues in there and see what it looks like, get a little visual from it. (Deaditor's note: Other work that's been done on No. 14 over the years include moving the middle tee away from the No. 13 green, removal of pine trees from between the No. 14 and 18 fairways, as well as recreation of another fairway bunker, originally 165 yards out from the green.)
Put yourselves in ownership's head…why would someone remove one of these beautiful bunkers?
ERIC: Donald Ross defined bunkers, whether that's greenside bunkers or fairway bunkers or cross bunkers, as something that is on the player to avoid…But nowadays you're trying to get more women and you're trying to get more juniors, and they hit what might be a good tee shot and it ends up right in this freaking hazard. And they're all pissed off, so you can obviously see where that comes from.
TIM: I'm sure somebody could say "playability" and I've always heard "why is that bunker there? I'm always in it," da-da-da-da, "let's get rid of it, make it more playable, pick up pace of play." Something like that. That's a lot of the reason why these things get removed. (Deaditor's note: When sources say "da-da-da-da," it's a lot more fun to transcribe than when they say "et cetera.")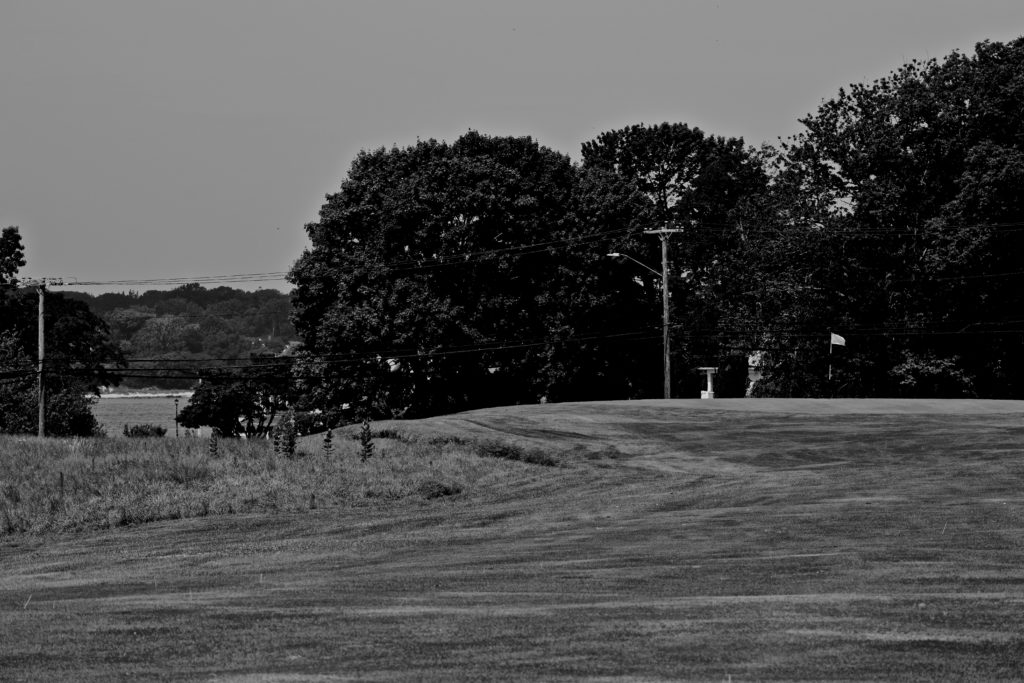 Interesting, because the Golf Illuminati has me believing that bunkers are expensive to maintain. And cross bunkers are big bunkers so…
ERIC: It's very challenging sometimes. We have a small staff. I can only bring in a few kids in the summertime, sometimes. My philosophy is to rake the bunkers as little as possible. We all know they were supposed to be hazards. Bunker maintenance has gone haywire…your membership, they think that bunkers are supposed to be perfect. They're paying big bucks to rebuild bunkers, to get flashy, bright white sand, which doesn't really fit some places. Just watching golf on TV every week, what they do on those courses with hundreds of volunteers for one week a year, that's what everybody sees and that's what they want at their course…
Maybe greenside bunkers are just more relevant strategy-wise?
TIM: As far a playability, surrre, as far as strategy, yeahhhh, but I'd argue a cross bunker could be more influential to the strategy than a greenside bunker.
Are there other cross bunkers at Shenny that have been lost over time?
ERIC: Well we had two that were filled in before I got here, and they were literally 60 yards off the tee, maybe. On our second hole and our sixth hole, and the one on two wasn't that big. The one on six was ginormous. Fronted the entire part of the fairway before you got to the fairway…it's a bear of a Par 4. Uphill, into the wind usually, 420, 430. There's this enormous pit, blocking the entire fairway. So those bunkers were made before all forward tees—multiple tees—came into play…But now with building forward tees, we have it in the masterplan to bring back those hazards and the forward tee will be past it. So problem solved.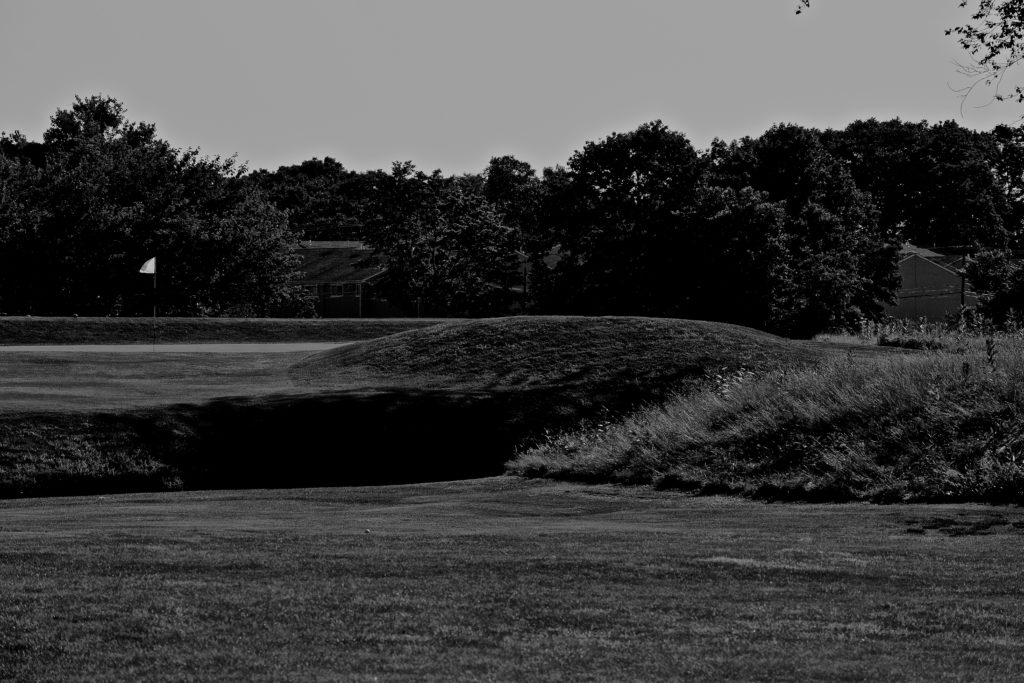 Ah, a masterplan you say? Funny it didn't get mentioned until this late in the interview…not that I'm rearranging the order of the questions to create a flow in this blog post or anything. Tim seemed to suggest there were minimal "plans" in existence.
ERIC: We had actually contracted Cornish, Mungeam and Silva for a masterplan for the golf course, and Mark gave Tim that job. So Tim did the masterplan. So it only made sense as we received money from the town to do some capital projects, even though Tim had broken away from that firm, that he was the guy we needed to work with. So there's been a continuity with the same firm ever since the big redesign, which I think is great. To be working with different contractors or different architects for every little single project we do—because we're not doing everything at once—you know, we're doing one tee or three bunkers…It's invaluable to have the same people on site all the time. Same shapers, same eye with the architect.
Alright, whether they intended to or not, the theme seems to be "hire Tim and Eric, they put on an awesome show." What else has Shennecossett got going for it?
TIM: It's a great site. Drains well, very little water issue. They don't spend a lot of money on water. They have a following. They get a lot of play. They're open when there's snow on the ground. You can find a lot of places like that in New England, maybe not that you necessarily want to play all the time, but Shennecossett is definitely one where people try to sneak out in January…I think it's all that package. It's got a history to it.
Has the historical interest revved up recently, as the rest of the golf world seems to be appreciating classical architecture more? Are locals more interested in the Ross identity, versus just a fun round of golf?
ERIC: I don't think so. This place has always had the reputation of being the Ross course. There's only five in the state of Connecticut. We're the only public one. So I think it's enjoyed that reputation for a while now. You always have people showing up. They travel just to play different Ross courses and that's how they found us.
TIM: It's similar to the Black Metal scene, I think. You know kids start getting into wild stuff like Deafheaven and blackgaze and eventually they come around and start appreciating the classics more so. Those bands are popular now, but will they have the same staying power in 100 years, like Darkthrone? I don't know. We'll see. A Blaze in the New England Sky! (Deaditor's note: He didn't actually say this…but we were pretty sure he was thinking it).