Donald Ross fans in Ohio are in the midst of a few good years. At the top of the list, most obviously, is Andrew Green's restoration at the Inverness Club, and Scioto Country Club will seek to usurp the throne (as the state's preeminent Ross) when Green undertakes an overhaul during 2021. Brookside Country Club in Canton beat both to the punch when Brian Silva restored its Rossiness during 2003. Although not quite at major-host level like those courses, Kevin Hargraves's work at Columbus Country Club is earning raves.
The Columbus metro area will continue the theme, at least theoretically: Some big-name, big-walleted Denison University alums are making it possible for Gil Hanse to create a masterplan for the school's course, which was designed by Ross as Granville Golf Club. We're hoping like heck work begins sooner than later, and we're especially eager to see what happens between holes Nos. 14 to 17.
A full restoration simply won't be possible, alas.
A land-swap tied to real estate means that Ross's original Nos. 15 and 16 were wiped out, and replaced with the current Nos. 14, 15, 16 and 17 (we'll get to those holes in a minute). Likewise, Granville is presumably not interested in demolishing its current clubhouse to restore the original No. 18 hole, which ran east-to-west horizontally across the property.
Another noteworthy change is the current No. 3 hole is the former opener…and the current opener was formerly No. 8, which made the current second hole the former No. 9. Whatever. It's a lot of brain power…if you're lucky, I'll rework the old routing on a Google map to help you get an idea what the course used to look like.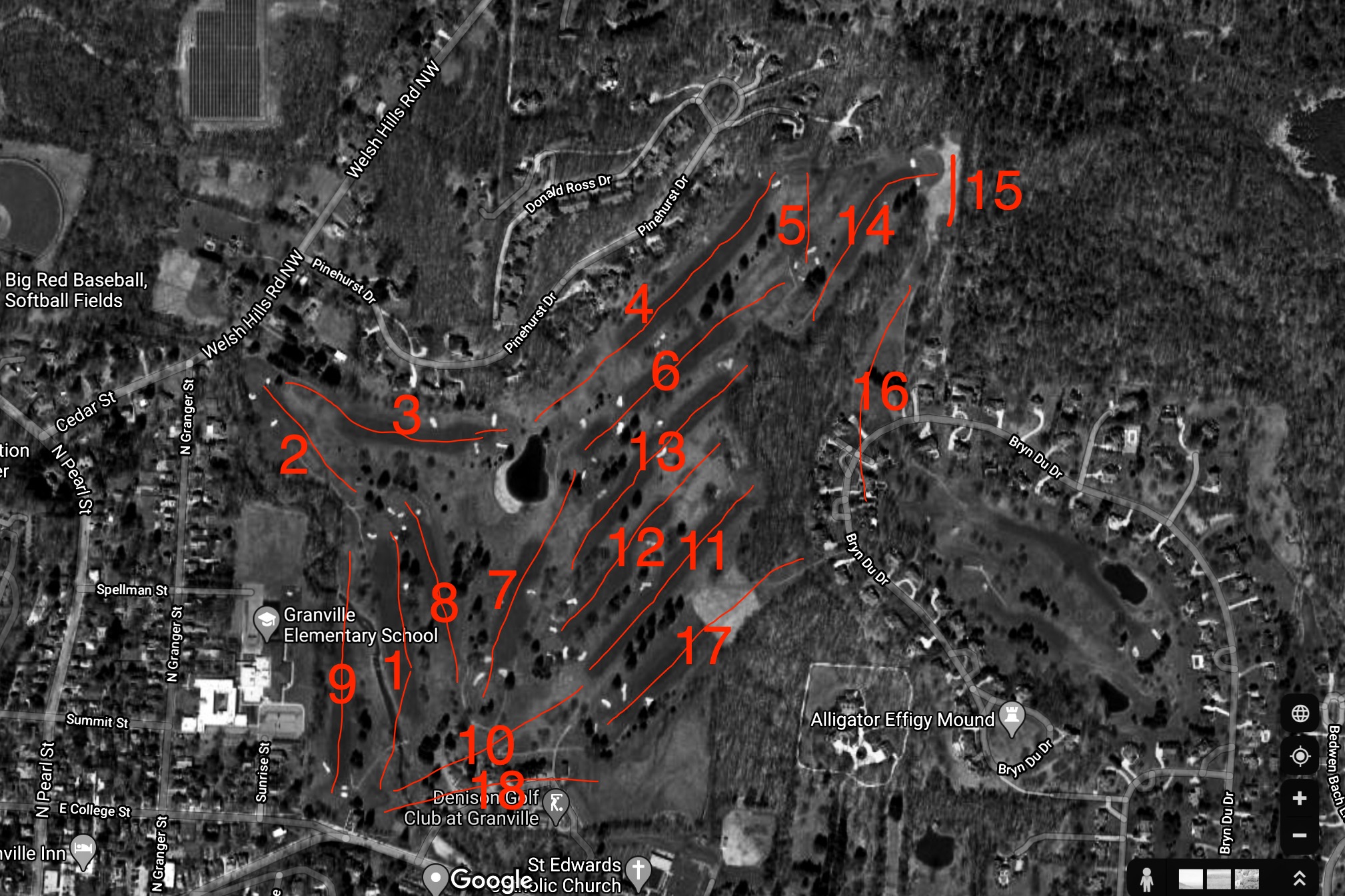 But, as alluded to, the current Nos. 14, 15, 16, and 17 are not Ross designs and, accordingly, everyone hates them. I don't mean to say that they're bad…more that when Michael Hurdzan and Jack Kidwell come in to design replacements for Donald Ross originals, the townsfolk in the golf architecture internet world are going to hate them. That being said…I'd argue at least half those holes are truly bad, and the other two need some work to live up.
That being said, you don't pay Gil Hanse money to make things passable. You pay Gil Hanse money to make things bold, and awesome, even if that means swaying from the original layout. Green is going to make Scioto the incredible course that it already was, half a century ago. Hanse has a bit of a free pass to do what he wants with this less-than-iconic stretch.
But if he needs any inspiration, we've got some ideas.
No. 14
If any set of holes will be a mystery in terms of what Hanse thinks up, it'll be this one. That said, we're willing to put money on at least one hole being totally restored, and it's No. 14, as a standard exists.
Modern day players will recall No. 13 as a short dogleg right, with an uphill approach. That's followed by a walk over to the current No. 14 tee. Many will overlook that the scantest bones of Ross's original hole are still there, in the form of a putting surface tucked off the cart path. Look backwards up the hill and you'll know where the original teebox is. In fact, there's still a path cut to the top.
Hanse's work will be easy here. Using Ross's original drawings (which can be seen at the Tuft's archives), we learn that the original par three at this location was intended to be 120 yards. Distance obviously wasn't an issue, considering the downhill shot. Ross created some confusion, however, by planting three bunkers some 40 yards out from the green, on a ridge that rises slightly from the rest of the hole (this is admittedly based on his sketch…I can't recall such a formation). Add planned native growing in around the central hazard, and two bunkers pinching the green itself, and this is a solid short-short.
Expect to see this bad boy in action again. As for the rest of these holes…
No. 15
If we were to continue a true restoration, we'd run into trouble at Ross's No. 16. This was a medium-length par four (380 yards), but one that ran significantly uphill. The straight portion of the fairway is still there but after the elbow…we'll be running into a home before we come close to the No. 18 teebox. And these are nice homes with roundabout driveways…solid backyard pools…we have a feeling they won't be selling.
So that leaves us with a straight, uphill piece of property running about 200 yards. Undaunted and thinking to Pacific Dunes, we plow forward with two consecutive par threes.
Granted, the current hole is a dud. It's 190 yards through a narrow canyon of trees, to a small green perched atop what could conceivably be a Native American burial mound (it isn't, but we'll return to this subject later). Fortunately, Ross left behind about 400 courses-worth of inspiration, and we've got ideas.
Namely, we're looking at Essex County Club's No. 11, one of the greatest shorts to pour from Ross's pen.
By mirroring that green — perhaps building up a hill to the left of the green with sizable, hidden hazards, plus a significant fall-off down to a series of bunkers on the right, differing in size — and you've got a heck of a par three.
Two par threes in a row. So let's do something a little longer.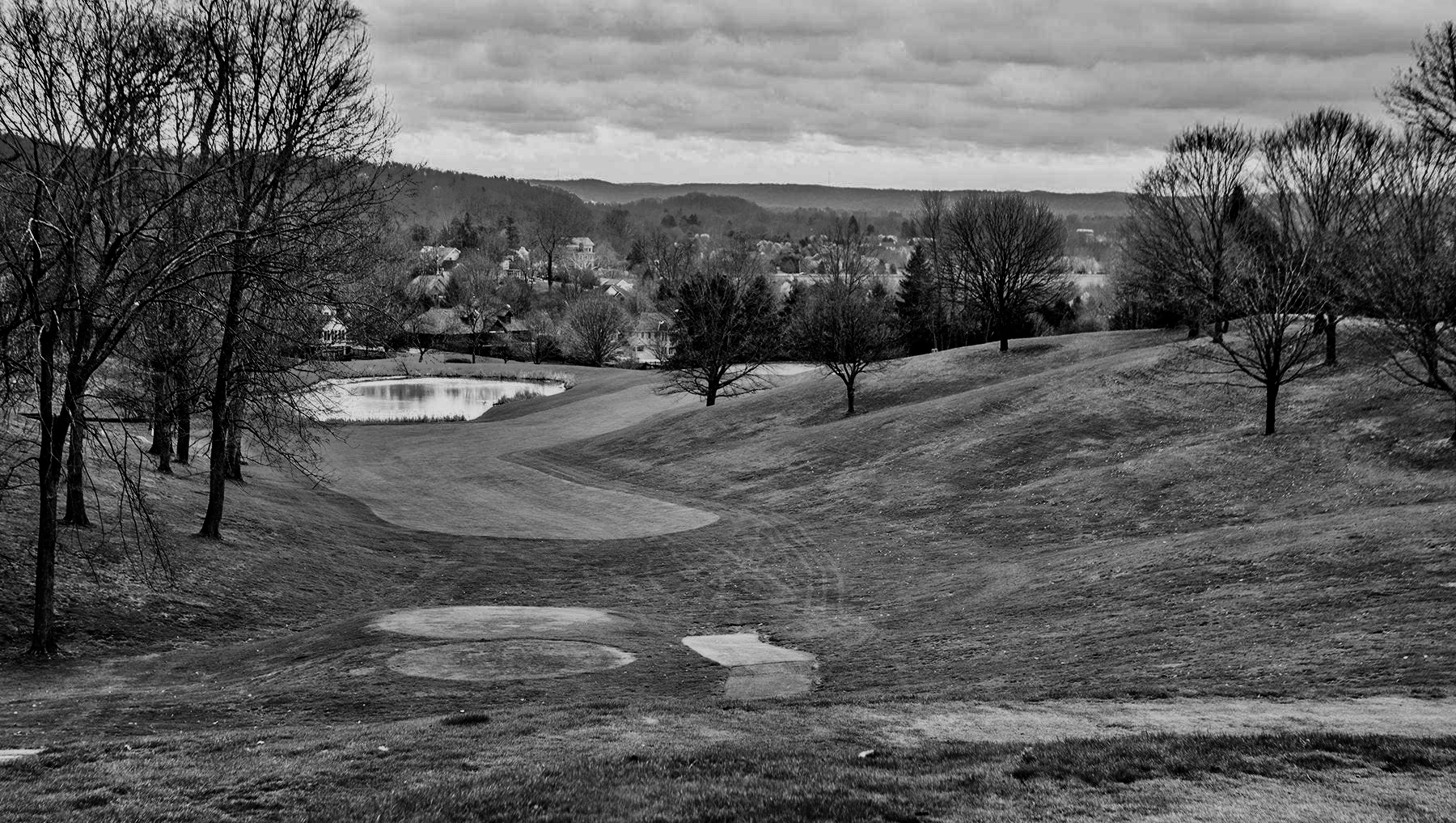 No. 16
The current No. 15 hole, I feel, gets a raw deal. It's imperfect, but it's the best of the new holes created amid the real estate debacle. Playing 440 yards, players can try to shorten it by challenging the dogleg, which is enforced by a significant slope along the right; if your ball gets stuck in the second cut at that angle, you've got a tricky save around the corner. On the left, a pond lingers about 285 yards out, but a layer of second-cut prevents most drives from reaching it. Although there's some undulation on the way in, it's mostly a straightforward approach to the green.
One of the biggest complaints is the fairway is simply too tight, and they ain't kidding. So let's kill two birds with one stone: Widen the fairway significantly at the bottom of the hill.
This current setup is ideal for the rare guy who can hit it long and straight. He can hammer it down without needing to worry about the pond, thanks to the brakes applied by the second-cut. If you cut to fairway length all the way down, now he needs to worry about rolling his long drive in and may change his club at the teebox accordingly (I used Hanse's work at Brookline's No. 4 hole as inspiration, where the fairway was extended to roll into trap bunkers by those who took the wrong, long line off the tee). Similarly, bunkers should line the inside of the dogleg, to ensure that those who miss can't find the green in two. It's not quite long enough to be a true "4.5," but the risks will be there to encourage queasy players to leave the driver in the bag.
No. 17
The next two holes are the most disdained of the current Denison collection. If you consider the parcel of land where these three new holes now exist, you'll notice it's a valley. The current No. 15 dives down…which makes it necessary for the next two to come back up to reach the lofty No. 18 teebox. No. 17 is a bearable hole, 170 yards to a green perched so that shots to the right will tumble down in the direction of the No. 15 short tee.
No. 16, therefore, does most of the heavy lifting, coming up the steepest climb on the property during the approach, from a skinny fairway that slithers through a canyon created by the steep downslopes on either side. How to amend this geographical nightmare of a hole?
Those following the numbers at home will notice we don't have room for two holes; by reintroducing the original par three at No. 14, we've left room for only one hole (on a traditional 18, at least). Our first thought here was innocent enough: "Let's get wild and introduce a par five that climbs the hill." The problem: The only real option for a green where the current No. 17 putting surface sits will be a nightmare to reach in three. Similarly, the nightmare climb to the current No.16 green is still intact…but now with even longer to go to reach a putting surface.
An alternative option was to find a place for a green nearer to where the current No. 17 teebox is, lengthening the hole to a long par four with an Alps-esque approach. Sounds good, but few clubs want to deal with a blind par four approach. And again…that climb.
We were, admittedly, stumped.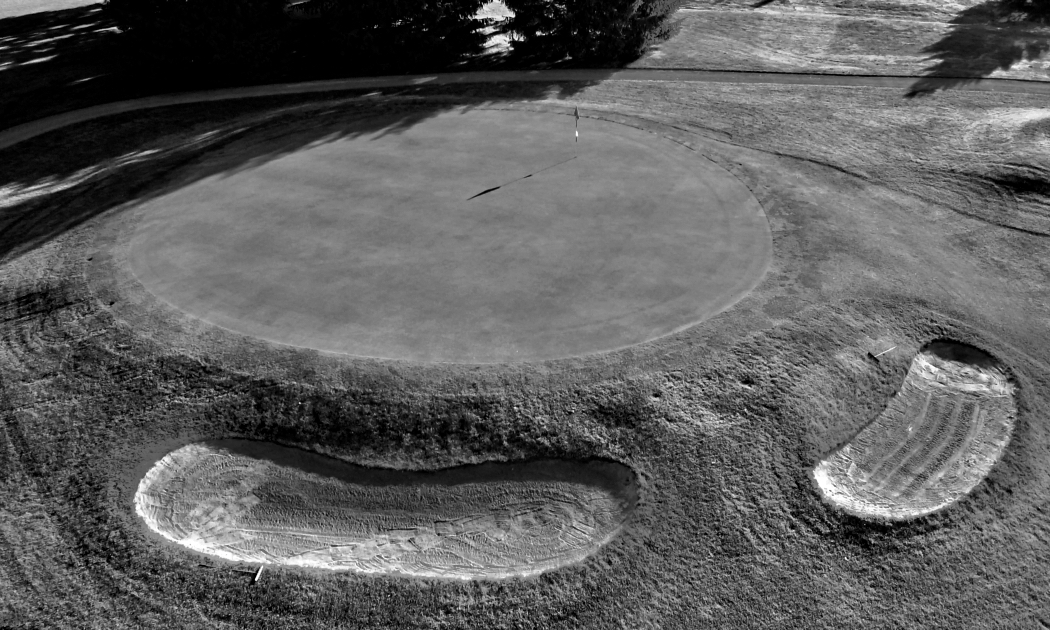 We realized, however, that we had boxed ourselves in by following Hurdzan & Kidwell's route. What if the flat area that currently holds the No. 17 green became the teebox for the new No. 16? Rather than come off of the former No. 14 and head to the former No. 15's teebox, why not head downhill where 16 and 17 once came up? We envision placing a new green behind the current No. 15 green, playing about 530 yards downhill…an obvious risk/reward attempt at eagle. Although the yardage isn't significant to a big hitter, the tumbling nature of the downhill tee shot will leave a less predictable lie than most at Denison.
We'll keep Ross's identity in the mix by adding a sizable centerline bunker near the bottom of that notorious slope; big hitters need to debate whether they trust themselves to carry the trap, or to lay up short. If laying up, the second shot can still be made to the green, but brings the pond next to the current No. 16 tee into play. Short hitters can take three easy shots into the green, compared to the two difficult decisions to allow for an eagle putt.
Although Ross is better known for cross bunkering, a centerline isn't unprecedented for Ross, even at Denison. Sketches of the current No. 6 par five (then No. 4), show a bunker at the bottom of the hill along the left side of the fairway, reachable from the tee for big hitters. It made a hammer up the left more of a risk than today's shot (look to see this feature restored under Hanse's plan). Our proposed bunker at the new No. 16 serves a similar purpose…to check the throttle of the big hitter, unless he really wants to gun it.
Also, we have a name for this hole: "The Alligator." Although not a species native to Ohio, it does pay tribute to the Alligator Mound, which is right up the hill. Although developers didn't have an issue plowing over Donald Ross, they at least had the decency to protect this historic location.
This hole creates an issue, however, in that we already put "so much" thought into improving the current No. 15 to turn it into a better No. 16 within the new route. Alas, for the greater good, that hole now disappears.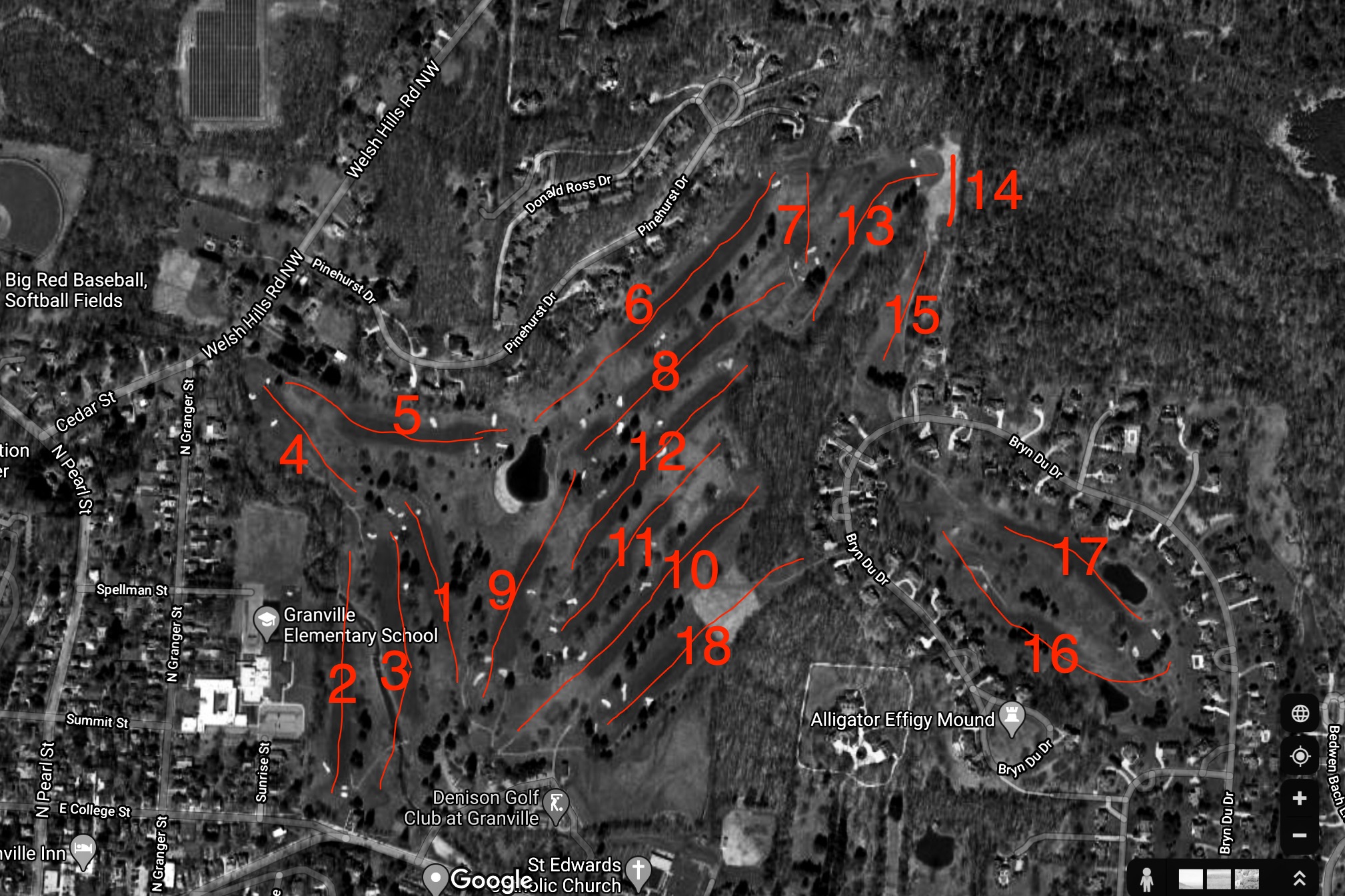 No. 17…for real this time.
The removal of Ross's original No. 16 (that first par three we mentioned) forced Hurdzan & Kidwell's hand in routing three holes through this forsaken valley. Our re-addition of that short hole, however, requires only two holes for this part of the property. So why bother climbing back up the hill (to where the current No. 15's teebox) is? Yes, it will create a significant hike from the No. 17 green to the No. 18 tee, but it's a better price to pay than goofy golf holes of questionable quality (see: former No. 16).
Therefore we propose a short par four as the new No. 17, perhaps 325 to 350 yards. This will require raising the green up the slope a touch, but at a reasonable angle not atypical of Ross.
The pond shouldn't be in play, but installation of a visible bunker complex at the corner of the now-dogleg left would be appropriate. This would make an attempt to play the corner a risk-reward, encouraging some to head toward to a generous patch of fairway to the right, which in turn would result in a less optimal angle to the green. The distance over the complex might not be an issue for big hitters, so the fairway should end not too far beyond the elbow of the dogleg — maybe 285 out — so that overzealous drives won't end up with a fairway lie. This results in a lofted carry of perhaps 40 to 50 yards to the putting surface.
And so ends your round at the reimagined Denison Golf Club, nee Granville. Well, no…you still get to take the iconic tee shot down 125 feet from the No. 18 tee. Don't expect Hanse to steal that from you.
Played Denison before? This is a post where I'm genuinely interested to hear what other conclusions players have come to while traveling between the current Nos. 14 to 17. What changes would you make? Direct message at @BPBlackMetal (Twitter) or @BethpageBlackMetal (Instagram) with thoughts.