You would think that a course named after Sleepy Hollow, which is in fact set in the very Sleepy Hollow of headless-horse-rider infamy, would be the most mysterious round of golf in town. It alas, is not.
Part of this is because Sleep Hollow Country Club, despite its famous logo depicting the very same headless Hessian, is not located in Sleepy Hollow. It is located in Scarborough, slightly up the river. This is a trivial point, true, but there persists some belief that the Horseman himself may have been involved with one of Raynor's most famous works*. Granted, existence of this rumor—although allegedly shared among members at the club—has only been confirmed in one Reddit conversation and one woman who was clearly not at Sleepy Hollow to play golf. Both rumors say roughly the same thing, however (if you've got information regarding the legend, by all means comment below): The "Haunted Bridge" namesake of the Par 3 third refers less to rustic spans that cross the rocky valley to the green, but to the fact that the Horseman reportedly threw his head at Ichabod Crane on the very spot where the hole lies!*
* = Italicized for spookiness. 
Logistically, of course, this is impossible, as the hole changes position on a daily basis. Also logistically (and also "of course"), the aforementioned fictional event occurred in the actual Sleepy Hollow, not Scarsdale. No, the hole—as well as every other hole at Sleepy Hollow—is named to reference the famous short story by Washington Irving. Although the Horseman did cross a haunted bridge, it was not the bridge at the course (which is for walkers only, by the way. Trying to take a horse across is a good way to get kicked out and embarrass your member host).
And so dies the search for a mysterious golf course in Sleepy Hollow…or so we thought.
There is one, and only one, golf course within the legal limits of Sleepy Hollow and it's one of the most mysterious properties in the state. Far more exclusive than Fishers Island, with even fewer rounds played.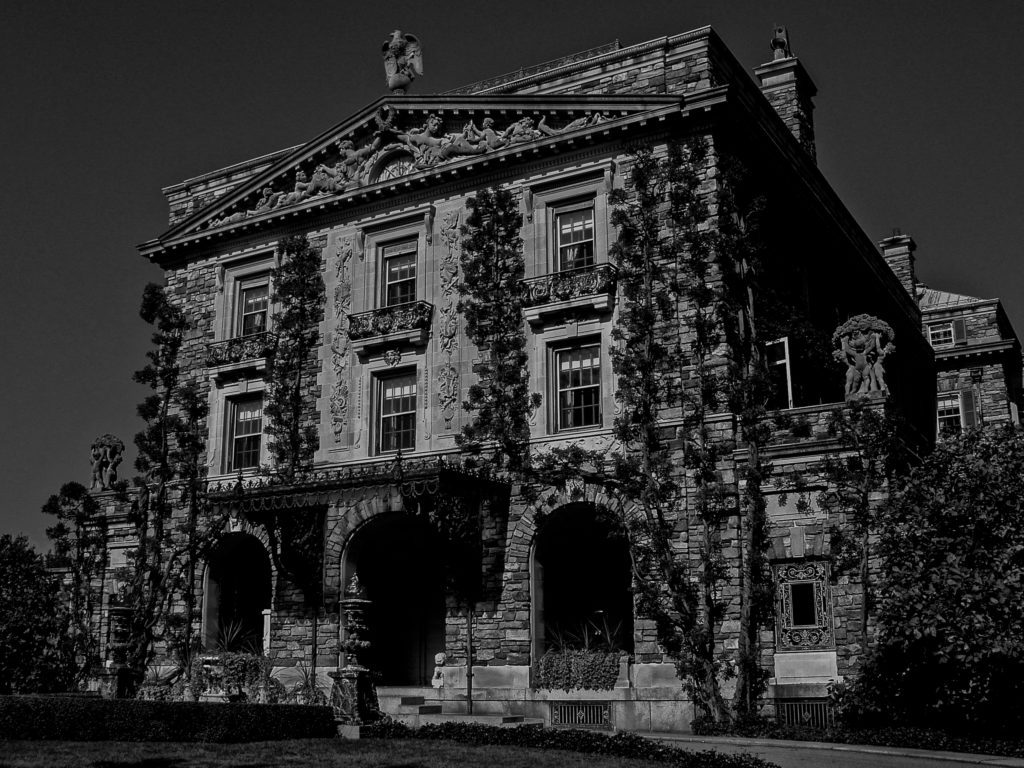 We have no proof of the latter statement, but it stands to reason. Poncantico Hills, the personal golf course of John D. Rockefeller, remains in the hands of his descendants. Descendants who reportedly do not take much interest in the sport. But suggestions that the course is no longer maintained face tough counterarguments. One, a simple Google Maps search. Two, the Rockefeller estate at Kykuit runs public tours six days a week. If none of the Rockefellers wanted to play it, it would either be closed permanently or perhaps opened to a public / country club audience. If the Google Maps argument doesn't sway you, consider some of the images here from photographer Todd Shapera who—while apparently shooting one or more dance and classical events—managed to snap a few shots of the course. It appears as Gilded as you would hope, with holes rubbing up along Greek sculpture installations, and ornamental trees.
Beyond the glimmer, if its details prove to be accurate, the course is curiously relevant within modern design trends.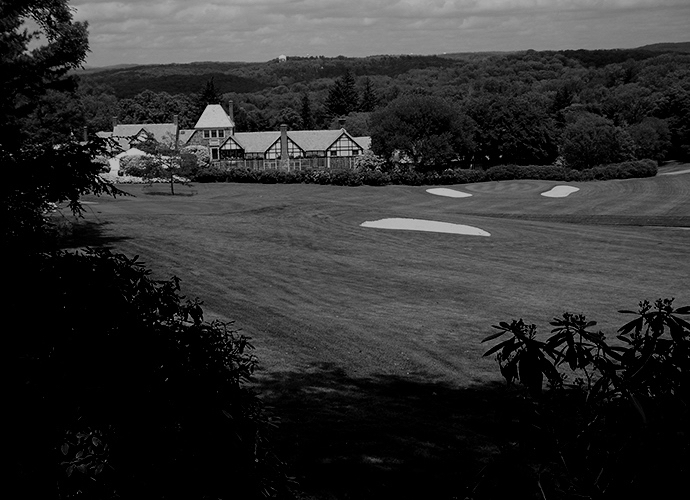 Rockefeller apparently fell hard for the game. He didn't take it up until 1901, at the age of 62 but—if the timeline is accurate—he immediately set about adding a course at Kykuit, hiring Willie Dunn to create the layout (yes, the same guy who worked on Shinnecock). This is where facts already begin to muddle; as part of its 60th Anniversary celebration, Golf Digest listed Poncantico as historically relevant for kicking off a run of backyard courses catering to millionaire owners. They cite the course as opening in 1932, however, and as designed solely by William Flynn. Fortunately for we aficionados, for as relatively obscure as Flynn remains among Golden Age architects, he had one spectacular fan in author Wayne Morrison. His book The Nature Faker dedicates 2,200 pages to the designer's work (it's an eBook).
Dunn's original isn't mentioned in this GolfClubAtlas interview, but Morrison suggests that Flynn ultimately won the Rockefeller job over Donald Ross due to the long-term affordability of his layout (Flynn's Shinnecock connection apparently was not a factor). Rockefeller The Younger was reportedly aiming to renovate the course for Dear Ol' Dad but, as the latter was 95 at the time, it seems unlikely. Indeed, he would pass away before Flynn completed the project.
It's not a long course, but it's certainly not a short course—It maxes out at 5,673 yards (there's only one set of tees)—but still plays to a par of 70. There are reports Rockefeller the First averaged only 125 or so off the tees (but played accurately). He only played the course when it was 12 holes, however, and the original yardage is unknown. The alleged distance relates to the newer rendition of the course, where Flynn applied his touch.
This is where it gets interesting: The course is reversible, with the intent of playing the front nine out, and the back nine in. The course wraps around the home, which is very much visible during play (with Hudson River Valley views to rival that other course a few miles to the north). It features nine fairways and 13 greens. Although cost was apparently the driver of hiring Flynn, it no doubt helped that he had designed similar flexible layouts for millionaires like Ned McLean (owner of The Washington Post) in Washington D.C. and railroad magnate Robert Cassatt.
The individual hole details aren't widely known, but Morrison sheds some light on one Par 3 during the aforementioned interview, detailing a hole leading directly up to the home, fronted by three bunkers and featuring what he calls "the most severe slope I've ever seen on a green." A bold claim from a man well-versed in classic architecture. And yet his follow-up statement is more interesting: "A golfer cannot hope to make many good chips or hole many putts, so the often absurd results evoke laughter and a sense of joy rarely found in a round of golf." Tom Doak seems to have a good sense of humor, so he might chuckle at how far this scenario exists from his idea of "family fun."
It's unlikely that the same feature exists across all 13 greens—jokes get old upon repetition—and it also seems unlikely that similarly "humorous" hazards exist (although at the southeast corner of the property exists an L-bend green that could provide cruel pin placements, depending on which way one was playing). But it also seems to hold one of the best possible views of the Hudson, perhaps bringing laughs instead of wraths.
There is evidence—from the Robert Trent Jones Papers collection at Cornell University—that the aforementioned designer was at least in talks with the estate between both 1969-1974 and 1978-1980. As one not prone to repeating the droning complaints of the echo chamber that is golf design discussion, we will emphasize that nothing quite fills us with tremors like the idea of RTJ "touching up" classic architecture. But, if anything drastic came of it, Morrison probably would have mentioned it during his interview.
The rest of Poncantico Hills shall remain a mystery, until the Rockefeller family sees fit reach out and let us take it for a spin. But, seriously now, we would much prefer their help with our student loan debt.
Sometimes it's better to leave mysteries mysterious, after all.