This blog is not about how Bandon Trails is my favorite course at Bandon; I've only played two of them and I've got to side with the majority of raters in that Pacific Dunes was the better of the two. That said, there's something about Bandon Trails that is inherently bloggable; it's a non-links course among four trve links courses (a contentious argument on several fronts)…and that's probably why I've seen more blog posts about Trails than I have any other course. Even if Trails is on numerous Top 100 in The World lists, we sometimes act like it's the ugly little Bandon brother.
Basically, people like me feel like we're fighting some hipster battle when we declare Trails to be our favorite at Bandon (I make a similar argument regarding St. Anger being the best Metallica album post-"Black").
But again, this isn't a blog post about why Trails is actually the best (and seriously, I don't hold it against anyone who believes that to be true). Pacific Dunes was the best course I've yet had the opportunity to play, but right now I haven't quite formulated thoughts beyond the standard 18-hole-tour blog post thesis: "dude, the views" (I've gotten a bit beyond that but I'm not sure it's an interesting post).
So I too am writing about Bandon Trails. And my topic is "dude, the views."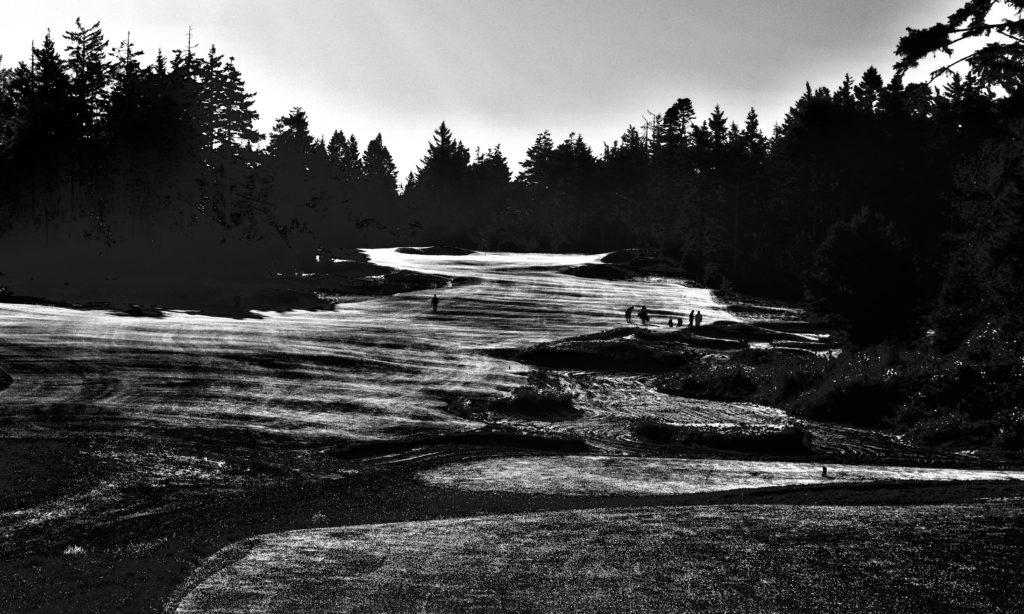 Here's the thing: I don't think Trails players are quite prepared for what they're going to see. In most cases when I've played a World Top 100 course, I've known exactly what's coming. You can't be on golf social media and not see thousands of Bandon photos. And of course I checked out the digital course tours before I came. I knew Pacific. I knew what to expect. I was still thrilled…but I wasn't surprised.
That didn't happen at Trails.
This post is on three holes at Bandon Trails where all the photos you've seen, and even the digital tour at Bandon's website, doesn't prepare you for the experience (I mean that in a golf sense, not a spiritual sense). It's all for the better: I played each and came away from them significantly more impressed than I expected to be.
No. 5
You see lots of photos of this hole…and it's usually the same shot. In fact, I took the same photo as y'all! Here it is:
It's a cool look. A short forced carry across a native valley, to a green fronted by some intimidating bunkers. I assumed, and asked my caddie, if flags at the front were typically the toughest because suckers like me went pin-hunting. She didn't think so, suggesting the back was in fact stiffer. And that's probably because she had looked at this green hundreds of times. Here's a photo from the front of the green, ignoring all that forced-carry jazz:
This is the most undulating green on a course with several topsy-turvy greens. I ended up in the center and managed to take home a par. One always wants to be putting uphill but this green offers many opportunities to test that theory. The good news is that there are relatively few opportunities to putt downhill (seems unlikely even the most frightened player will end up on the back shelf by accident).
I ultimately agree with my caddie (obviously my one round makes me her equal in reading the course): Although neither the front nor the back plateau are easy to shoot birdies at, the front plateau is less lofty, making a birdie putt from the valley more reasonable than climbing the back plateau's slope. But hey: I converted par heading up that hill, so you can too.
Oh, and regarding that same photo we all take at No. 5: People have a tendency to shoot photos from the tee, but more often than you realize, the better shot is from the back of the green. This is one of those cases. If you have your camera handy when you head to the No. 17 tee later in the round, you can get a great shot look back at No. 5's green from above.
I'm not a professional photographer, so I did not have my camera ready.
No. 11
If you look at Bandon Trails from a flat, Google-Maps view, No. 11 possibly had the most eye candy. For one, it's the only hole where water realistically comes into play (via a pond next to the green). The second reason is because the large fairway bunker along the right features about a dozen green islands.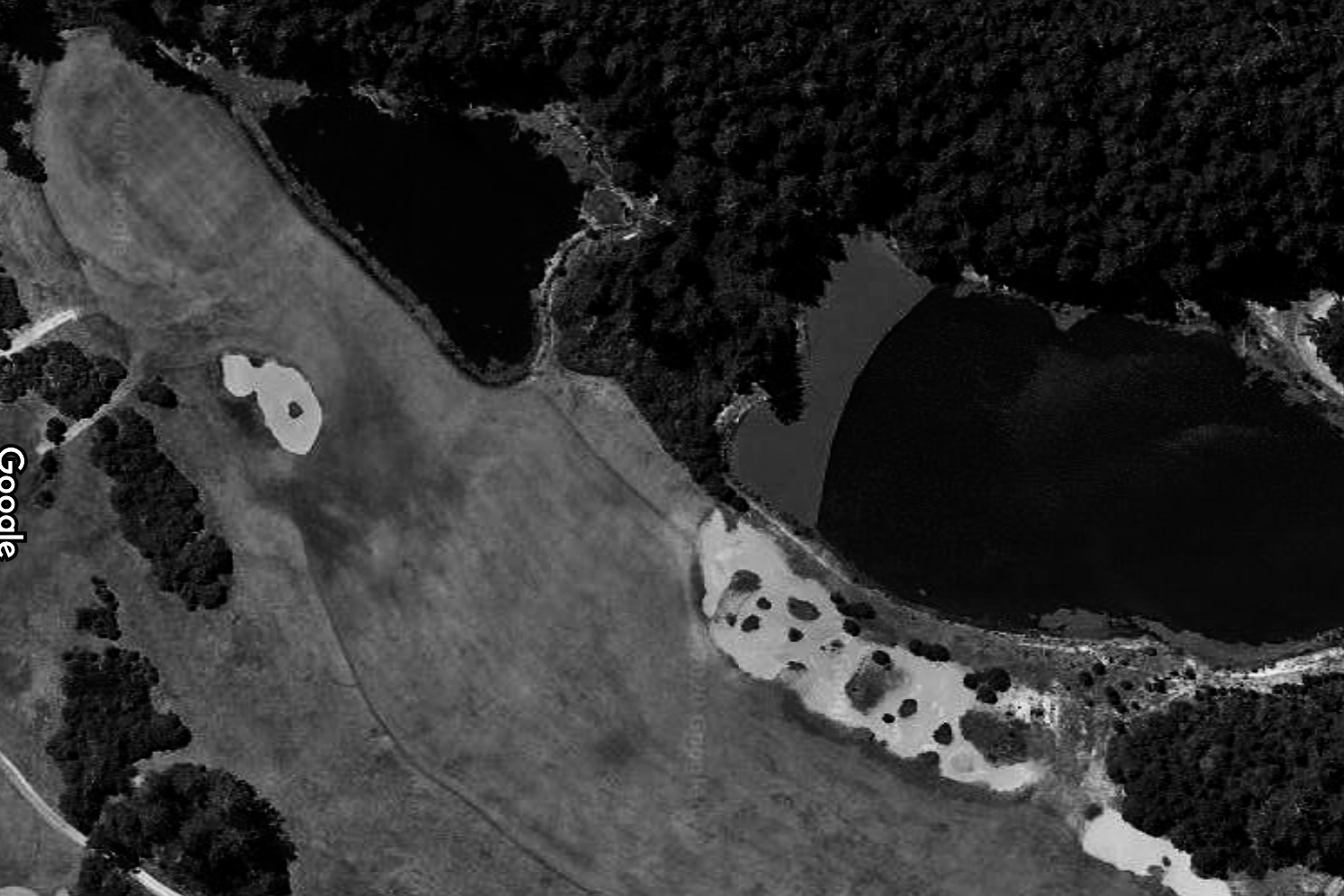 These factors come into play, but the factor you won't understand until you get here is how this fairway tumbles down toward the green when you tee off. If you hit a solid tee shot, you won't be able to see where it ends up. That wracks the nerves, and intentionally so. The most cautious players will hit left, to avoid that sizable bunker. This leaves them safe, but at the cost of a longer approach, at a worse angle, that must carry a 35-yard-long bunker along the left side. It's an unlikely shot. A less conservative tee shot to the middle offers a shorter approach with the ideal angle…but that bunker still comes into play. The aforementioned pond is still in play for both of these shots, of course.
The best way to par, much less birdie, is to hug that massive bunker. You get the shortest approach with the best angle. But it still takes a bold player to stay true toward the green and not play to the lay-up area left of the green. Basically, it takes two superb shots to take this 445-yard hole during a match. Failing on either shot inflicts a significant punishment.
Let's look back at those islands in the fairway bunker. I had a long time to think about them before we arrived at No. 11, and why Coore and Crenshaw opted for this aesthetic across Trails when it appears infrequently on the property otherwise. Hitting into the fairway bunker at 11 helped me figure it out.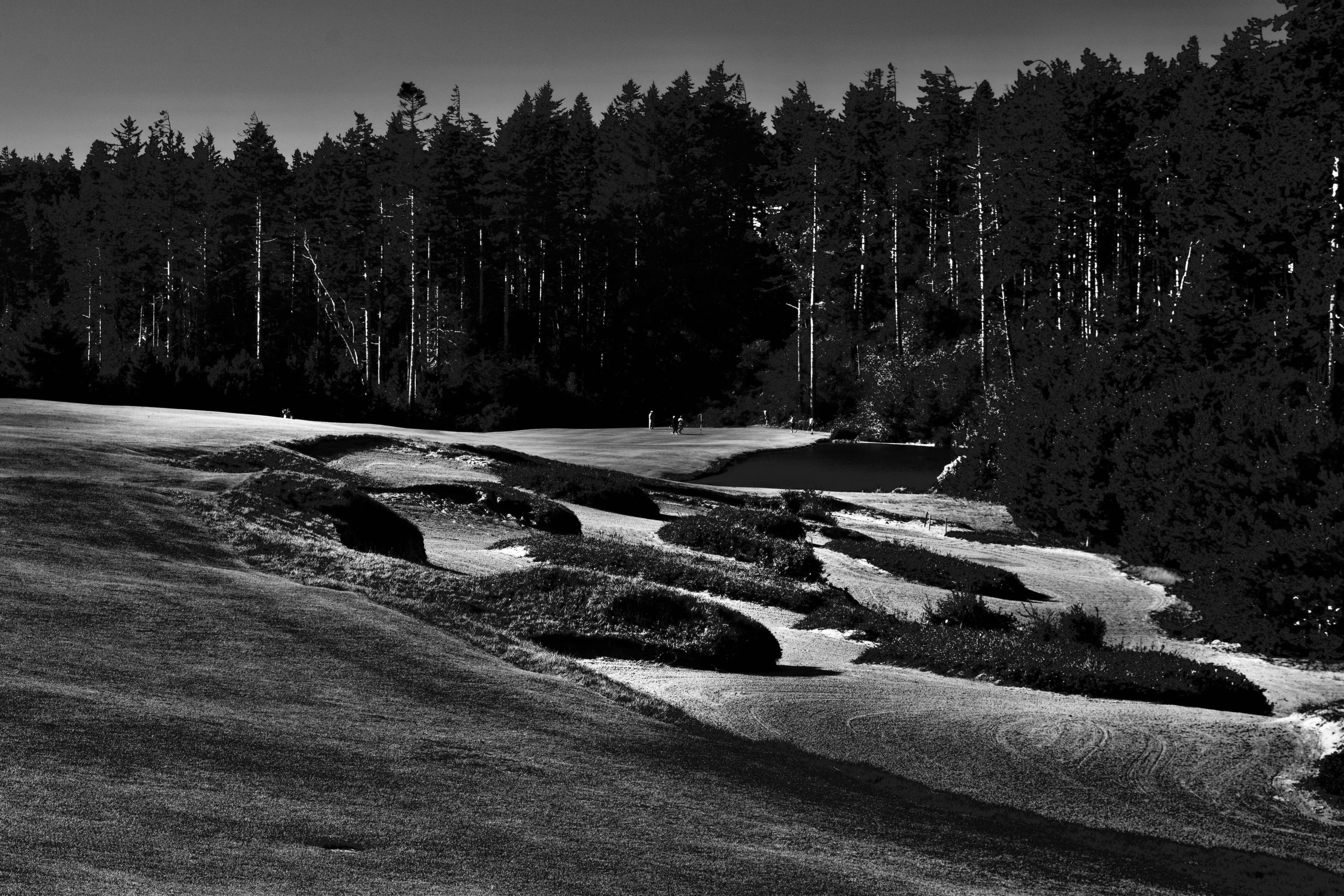 Those random islands, generally composed of a pillar of sand with native on top, adds a touch of chance to the hazards at Trails. Links golf, with its unpredictable mounds and bounce, makes golf a game of chance like it rarely is in the states. When you land in the hazard at No. 11, you don't know what shot you've got until you arrive at your ball. Maybe you lucked out and have a clear play at the green. Maybe you're in a little deeper but can make the lay-up area. But maybe one of those sand pillars will force you to take a less direct angle, perhaps out to a fairway area you can't see. Maybe it forces you to play a lateral. Maybe your line to the green is clean, but you have nowhere to set your feet.
Many American golfers, and almost every professional golfer, will think this is bad architecture. Because they don't get the same shot as their playing partner. It's not fair, and that's a beautiful thing.
Pete Dye once said "life is not fair, so why should I make a course that is fair?" I don't particularly like this quote, as many interpret it to mean Dye is simply justifying his toughest courses. But I think there's more to this notorious quote, which happened to come from a guy obsessed with old world designs.
Bill Coore began his career working under Dye. I don't think most people make the connection when they compare Coore and Crenshaw's minimalist approach compared to Dye's dedicated earthmoving. But No. 11 is as much evidence as any hole in Coore's discography that he remembers Dye fondly.
The blind landing area, two challenging shots required for par (look at TPC Sawgrass's closing hole for a reference point), and yes, even the pond. I don't personally like the pond. I think it seems a touch unnatural. But I'm sure Dye would have loved it.
And he definitely would give Coore a handshake and a chuckle for the green bunker islands around the course.
No. 14
OK, I'm not really going to spend much time on this one, as No. 14 is the most-discussed hole on the course. For the record, I'm not a fan. Way too tight a landing area off the tee, even for (and maybe especially for) players clubbing down. The mounding in the fairway is a rare blemish…an obvious piece of manufacturing on a course that excels in the minimalist aesthetic embodied by the resort.
But the view. You've probably heard that there's a marker, maybe 40 yards behind this tee, indicating where Mike Keiser was when he decided to pull the trigger on the Bandon property purchase. It's a heck of a view.
But I'm not sure it beats the view from the actual No. 14 tee box, looking out over the fairway and, just as important, the forested hills in the distance. Photos exist that show you exactly what you'll see…but full scope doesn't hit you until you're standing there. My photo doesn't do it justice either.
Also for the record: No. 14 was my only birdie on the day, so you can't claim bias.
No. 18
Outside of No. 14, the hole I've heard the most gripes about is the closer. Most of this comes back to its length. I get it, to some degree. We insist upon closers that offer a definitive challenge for one player to overcome and take the match. Tom Doak probably concluded Pacific Dunes with its longest hole to satisfy such thought. The final Par 4 at Trails is just 391 yards from the back tees, and offers no obvious superhazards to separate the competitors.
No obvious hazards, that is.
Coore and Crenshaw were not simply following the land, or being lazy when designing the blind tee shot at No. 18. It's actually your last test at Bandon Trails.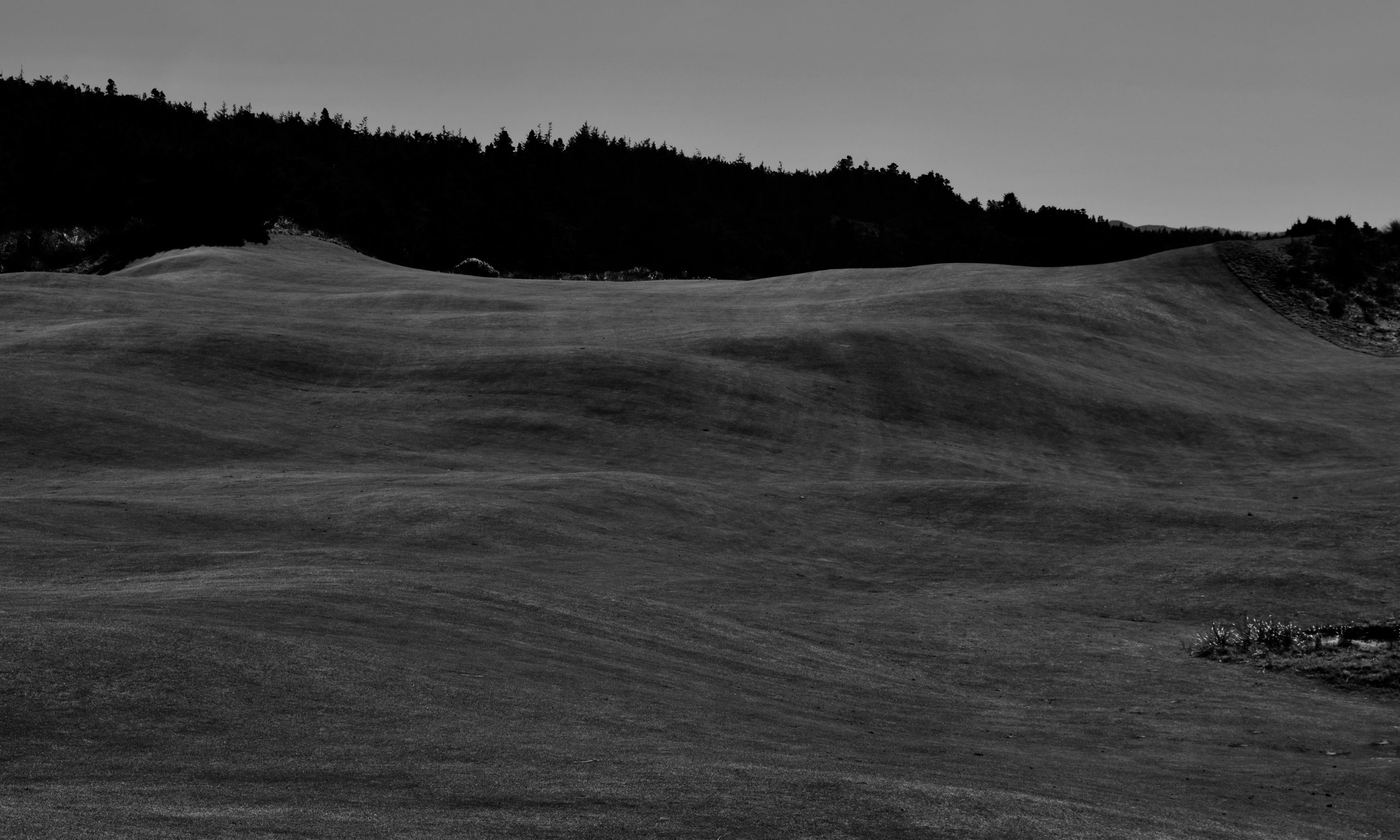 In terms of execution, it should be one of your easiest tee shots of the day. Use the bush at the foot of the fairway as your line and hit the same low drive you (should) have been hitting all day. There are no centerline bunkers, and plenty of fairway to work with. C&C also built in some buffers for the higher handicappers, as the front end of the fairway punchbowls a touch to guide misguided shots back toward the center and at worst case, a tee shot to the left will drop down into fairway bowl seen here.
It's probably the guys who demand tougher closers that are more likely to fall for No. 18's hidden potency. It's a return to the themes explored during our discussion of hole No. 11, and modern interpretations of what is fair and what is not. Control freaks want everything laid out in front of them, allowing simple execution to define the round. Donald Ross's insistence on making every bunker visible? Good. Dye or Tillinghast hiding hazards? Bad. This applies most dramatically to professional golfers (and their opinions trickle down to us riffraff). That's why they added a camera at the Dell hole during the 2019 Irish Open, so players wouldn't need to wrangle with a truly blind shot into the notorious Par 3 green.
The psychological hazard of not knowing has an impact on the best players, even if they theoretically have the best control of distance. That's the final defense at Bandon Trails for a tied match. Trust your caddie and trust your yardage booklet…but by all means trust yourself. The weight of not knowing is more likely to derail the more agitated player.
That's links golf in a nutshell.
Coore and Crenshaw do a superb job of bringing that ethos to Bandon Trails, allowing it to fall in line with the rest of its trve links brethren.