It's been a minute since we played at Old Toccoa Farm and since The Fried Egg ran our feature regarding shaper Jack Dredla's involved work creating a golf club out of the difficult, and beautiful, Blue Ridge Mountains—and his ongoing commitment to that project. Dredla, recovering from kidney cancer, took a full time position with the club (which opened its full 18 during 2019) so that he could see it through to term, understanding that a golf course requires four to five years to reach its fruition. You can read that piece here. That said, I've got a lot of photos left and very little subject matter for new content coming out of Winter. So here's a post I hope doesn't step on their toes too much.
The Fried Egg has also recently begun a series, the "School of Golf Architecture," that I imagine will focus on the core elements of the subject. Garrett Morrison's first entry is on "place"; not the soil or even the landscape, but the idea of a property's personality. The land at Old Toccoa, and the region surrounding the title river, is not lacking for this. It's beautiful, and the culture of the region is quickly making it a tourist destination.
But that does not necessarily make it an ideal location for golf, in the same way that the Congolese rainforest is not a great place for a golf course (or much human life, outside of Michael Fay). That said, ownership of the Old Toccoa development was determined to include a golf course within the community, which was aimed at the '50s and '60s demographic. The fly-fishing setup was easy, but a golf course was, frankly, a foolhardy proposition. Although it took much longer than they could have foreseen, their investment in Bunker Hill Golf to handle its design made the result a rare one…a golf course that manages to function amid such extreme conditions.
So we're not going to wax too poetic with the formatting. Let's just do a simple case study on the basics of making your absurd mountain property playable—much less traversable—for a membership that gave up on the PGA dream decades ago.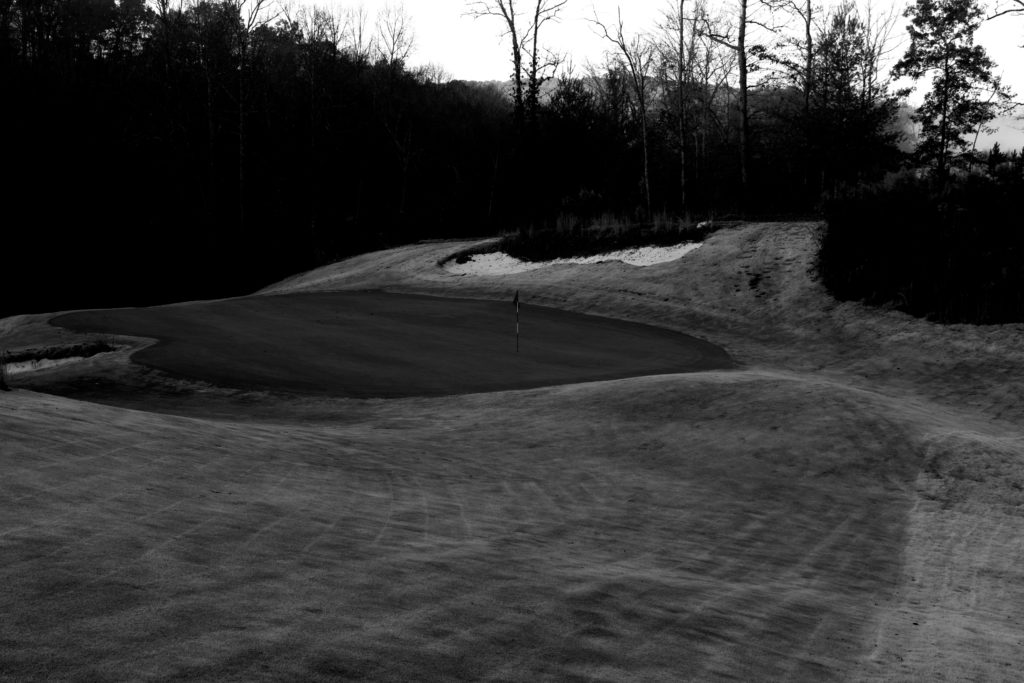 1. Apply Some Brakes
If you've ridden a roller coaster at any point in the past 100 years, you know that engineers have long since given up the idea of simply letting a train run out of momentum. Brakes are handier as roller coasters get higher. Golf architects have been using the same strategy for as long as roller coaster designers, understanding that you—with your less-than-subtle touch—are bound to send your balls way too far when hitting downhill. Consider the punchbowl green at St. Louis Country Club's No. 5: It's more than just a curiosity…it also helps kill momentum for those who come downhill a little hot, and it's probably kept a fair share of expensive golf balls from Knievel-ing into the creek at the back of the green.
The gang at Old Toccoa borrowed another element from Macdonald's work at No. 5, in the in the finger of rough that extends in front of the green from the left side to halt runaway trains. More than 625 yards from the back tees, the longest hole at the course is far from an eagle opportunity…but the aggressive downslope toward the river might have you thinking otherwise. Your third shot may be a long one, but it will have plenty of room to roll. Many a member may curse when their ball gets stuck in that shallow grass "bunker," but odds are the "trap" has saved many approaches from rolling up and over the green, which would leave a much tougher up-and-down.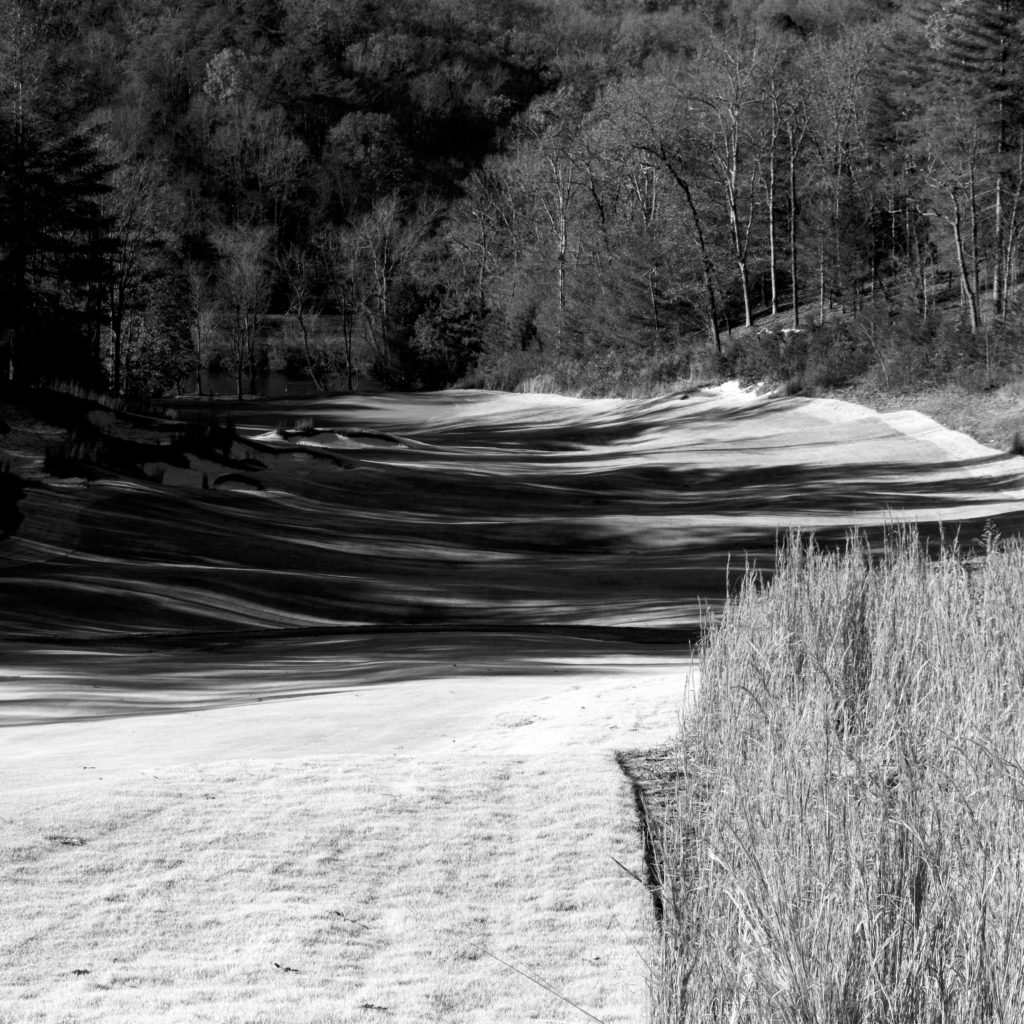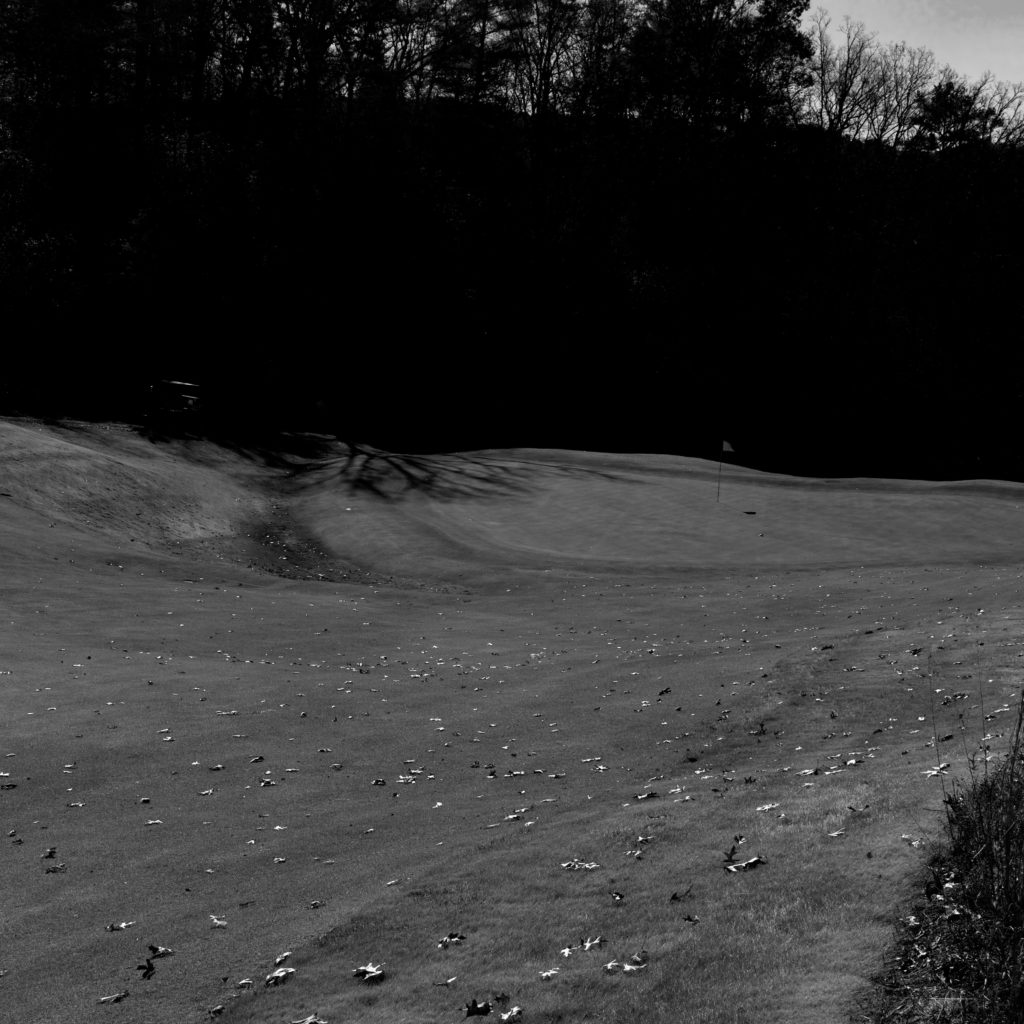 .A similar strategy is employed at No. 2, where the fairway drops sharply perhaps 80 yards out from the green. Those coming in too hot can easily ramp up into the backing native, a pain in the scorecard and knees for the average player at Toccoa. Accordingly, Dredla shaped a literal speed bump immediately before the green. This functions to slow fast approaches, while applying a minor penalty for a poor shot; the hump to distribute your ball according to your respective speed and angle. It probably won't favor a birdie putt, but it won't be in copperhead country. The hump also behooves links lovers. Those who don't know the course (like your correspondent) may try to roll a short pitching wedge up to the flag. Coming over the ridge, they'll be surprised to see their well-struck ball has been pushed well left of its target (again, your correspondent). They'll grumble a bit, save par, and later come to appreciate its dual purpose from a strategic point of view.
2. Hide The Help
There's nothing wrong with building a golf course that's easy to play, but many members still want a war on par. That's how talented guys like Pete Dye often get lumped in with warzone golf; buyers specifically requested them to build a barrage. The ownership at Old Toccoa didn't necessarily want insane slope ratings, but it comes with the literal territory in this part of the world. The back tees max out at 6,700 yards, but pack a slope rating of 149. That's a point higher than fellow Georgian Augusta National, which plays at 148 (at a distance of 7,500 yards).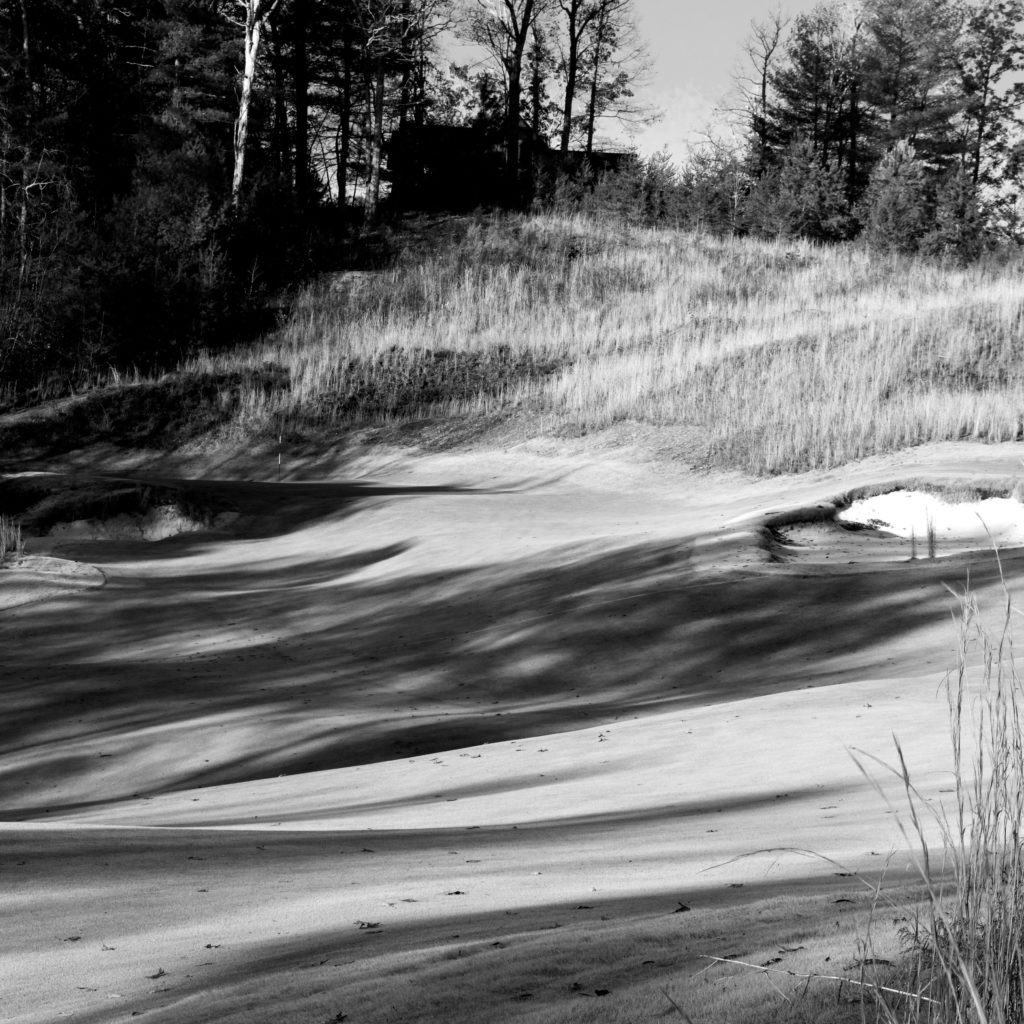 Basically, you're going to need some help handling the terrain at Old Toccoa, whether you admit it or not. Members don't want to "know" they're being helped, per se. The easiest way to make a course boring, after all, is to dodge difficulty altogether. Sometimes that means you need to hide the help. No. 2's aforementioned hump is a good example; it seems more like a challenge than an aid. Sometimes you can also disguise your friendly intent with some artful framing. Above, in the first image, note how friendly No. 5's green truly is. Anything right or long on this uphill approach stands to ride a punchbowl back down to the green. Sounds easy, but take a look at the same green from the fairway. That's an intimidating angle. This, like the hump, demonstrates why Old Toccoa is a great members' course. They won't be nearly as spooked when playing for your skin.
3. Let Your Budget Work For You
Designing a functioning golf course on this sort of terrain is only the first problem. Maintaining it is the second. There are some sharp slopes, not just front-to-back, but side-to-side as well within the fairway. It's all just shortgrass to the player, but it can be a hazard for those on a mower. So why bother mowing it at all? This question has gotten many courses into trouble as bunkers become overrun by longer grass…but Old Toccoa has a reasonable excuse for leaving some of its tougher chunks of fairway a little long (which conveniently saves them a few bucks, if only a few).
Consider No. 4, a drivable Par 4. Much of the fairway tilts right, just enough for the perfect smash to clear a large centerline bunker and find the proper angle down into the green…but also so that bad attempts at this daredevilry will roll down into a pond. The "smart" play is to lay up to the more plateaued region on the left of the centerline, and then hit a relatively easy wedge down to the green. Problem is a poor iron from the tee could just as easily roll down into the pond as a poor driver. So Bunker Hill made a wise move: There are a number of mounds leading from the tee to the centerline, grassed at second-cut height to catch your poor lay up. Slice off the tee while hitting an intelligent shot? Rather than rolling to a rare, aquatic doom, you'll just have a tough lie from which to take your second. A mantra at Old Toccoa: Give them bogeys, but don't lose their Pro V1s.
To defy the purpose of this post somewhat, this same strategy can work to punish the overzealous as well. No. 6 dives even more aggressively toward the river than No. 13 (and is one of the most popular holes for photographers…sorry, already gave my only good one to Fried). From the tee, players will immediately notice a sled-worthy right-to-left downslope in the fairway. Left is where you'd love to be for an ideal approach angle (and a kick forward down the fairway) but it's also a thin landing area. Your correspondent managed to nail this drive perfectly, but it's easy to imagine that a slight miss wouldn't actually result in a worse scenario if the slope were first-cut. It would still kick the drive forward, if to the right, essentially providing a better second shot than for a player who simply aimed to the wider right fairway all along. The longer cut covering the slope (not quite full "second-cut") slows the drive tremendously, removing both the better line and the extra distance of a fairway bounce. So guys like me, who do manage to find the top of the left fairway, can revel in our added distance and beautiful line during future blog posts.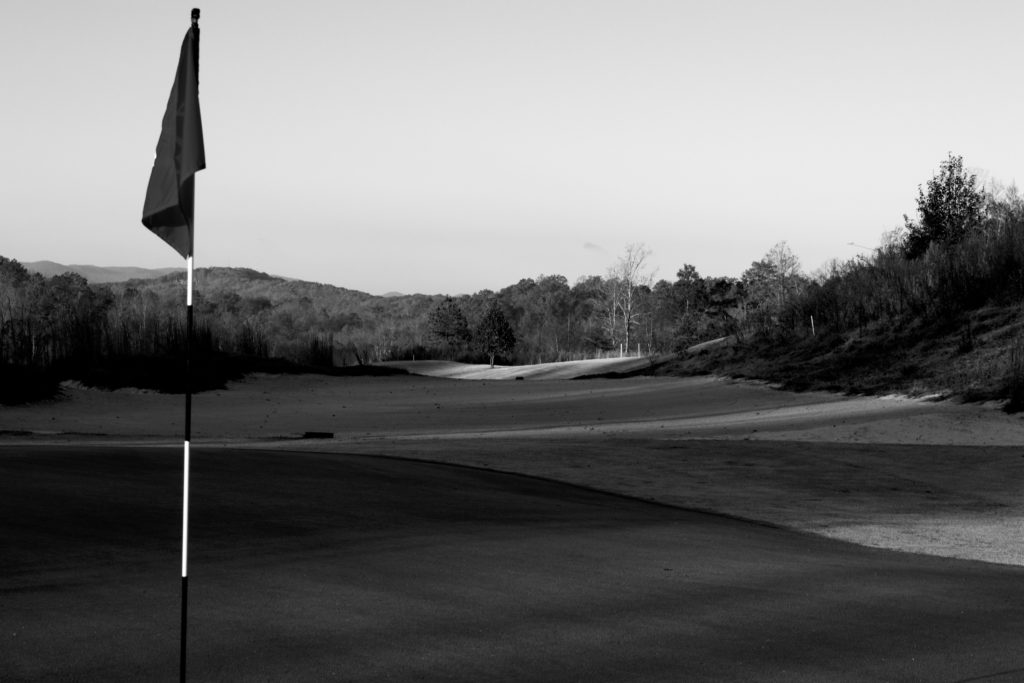 4. Do What You Have To. I Guess.
There are a few holes at Old Toccoa I honestly don't care for. No. 9 is an example and, as with everything else at Old Toccoa, that opinion is a product of the land it was built upon. The drive is to a wide landing area, which then requires a forced carry over a lengthy sand hazard (borderline waste area) to a long, thin green. This sand area is an oddity among the hazards at Old Toccoa…almost perfectly flat and at equal elevation as the fairway (which leads to a smooth transition from sand to turf that looks unnatural). Although I'm not going to call it a good hole, I think I understand the logic in the design.
A lengthy drop-off lurks along the entire right side of this hole. Any ball heading that direction is gone. The wide landing area discourages players from messing with it. The wide fairway quickly narrows, however, into a "tunnel"—maybe 25 yards wide—pinched between a rising ridge covered in natural, and the drop-off on the right. The sandy stretch covers a large portion of this tunnel, followed by the green. If that sandy area was grass, players would try to run it up…and lose many a ball in the process. Those who screwed up their tee shot, leaving a borderline blind approach, would be even more harangued. The sand may not look correct, but it will catch and slow poor shots…leaving an easy chip with their original ball. Bringing fairway all the way up to the green might have worked just fine in the Engh or Dye oeuvre, but not here. Old Toccoa did what it had to in order to keep its membership sane.
5. Just Do The Right Thing
The best for last, as exemplified in an anecdote that Old Toccoa managing partner Peter Knutzen shared with me while working on The Fried Egg feature (again, read that too for a very different story).
There is a tendency, among club owners and course designers alike, to believe the closing hole must test a player's mettle. This is a byproduct of the War on Par, and distracts from the trve intent of a gifted closer: to settle matches. Dave Axland envisioned one last Par 4 of 480 yards. Knutzen was having none of it. He again explained the demographics of the club's future membership, and that such a Behemoth was Overkill (Behemoth is like the opposite of Overkill, ha). Dredla reportedly spent 14 hours pondering the problem before arriving with what is now an obvious solution: Make it a Par 5.
It was more complicated than that, of course. It involved running a long bunker along the right side of the raised green (as well as some first cut to the right of that, for the benefit of those very off-target). Essentially, it became a matchplay masterpiece where there was once just muscle. Even for those playing alone, the choice of whether to attack the green in two is equally invigorating during every round. As a Par 4, members occasionally return to the clubhouse proud of a par, but usually defeated. As a Par 5, they're happy with a par, proud of a birdie, and will tell the story of an eagle to every playing partner they have from that day forward.
There are many ways to maintain a golf course, but this is how you maintain a membership.