Let's throw it back two weekends, to when we were theoretically celebrating Father's Day and more-than-theoretically watching Gary Woodland clinch the U.S. Open. Black Metal Brother (he's much more of a groove metal guy but, for the sake of alliteration, we'll refer to him as such) recently gained fairly unfettered access to his company's club membership at Clovernook Country Club on the north side of Cincinnati.
A few things to know about Clovernook: It's about as unpretentious a country club as can be, and it's doubtful that many golf fanatics were reaching out to members to get on for a "must play" round. That may get shaken up just a tad, as Clovernook was recently featured in The Golfer's Journal, and that publication tends to generate buzz for whatever small-time course finds its way in. Even then, writer John Schwarb focused on the club's caddie program in his search for a deeper relationship with his father. It's a reasonable pursuit, as the club turns out more Evans Scholars than any Ohio course not named "Inverness." Unlike Inverness, however, Clovernook doesn't have championship pedigree. The course details therefore fell through the article's cracks.
We were thrilled, however, to learn upon personal research that the route is part of the Langford and Moreau portfolio.
Among the great Golden Age duos, L&M often find themselves by the wayside. Fortunately, thanks to the relatively recent revitalization of Lawsonia Links, the pair have gathered some new interest over the past decade.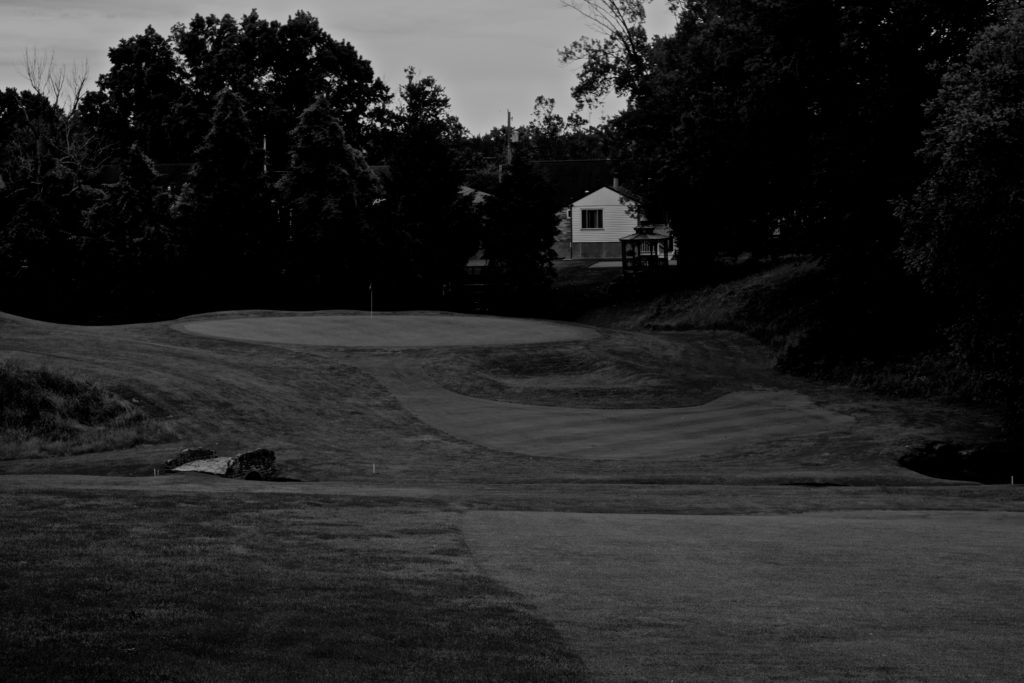 If looking for another name to make a Golden Age touchpoint, Seth Raynor comes to mind. Although most often associated with rather cubist aesthetic, his willingness to move Earth to make it so can't be understated. But it definitely can be overstated. This is not the case for L&M, who take no offense in veering from the natural. This trend may best define the relationship between the two men; traditionally it is accepted that William Langford, member of three National Championship teams at Yale, was the primary driver of the design strategy. That strategy, however, would not have been possible without the construction expertise of Theodore Moreau.
Both sides of the equation make themselves visible in Lawsonia's most famous hole, the Par 3 No. 7. The green sits on a landing that juts out from the side of an already-dramatic slope. In case it's not obvious, this landing is not natural. It's the result of burying a railroad car and shaping soil around it.
The car: Langford. The steep angle of the soil around the car: Moreau. It's not natural, and it's not easy (for either the designer or his eventual victims). Although this formula isn't as dramatic outside of Lawsonia, it exists at a healthy majority of the duo's courses.
Such as Clovernook.
Now, it's important to note the pair preferred to exaggerate the natural features of a property, rather than manufacture them. That's why we'll start at Clovernook with No. 18, a short Par 4 (easily drivable for pros, if not members). Several creeks run laterally across the property, creating deep valleys (and, admittedly, creating occasional, problematic design issues as well). No. 18 plays across one of these valleys immediately off the tee box, creating the shortest of forced carries. You'll see that L&M weren't content to let the valley be the valley. Moreau steeply rounded down the slope from the onset of fairway, and built a bunker to the left side. If you can't manage to carry to the fairway, you should be pissed at yourself. If you manage to land in that bunker after after a blown drive, you should be pissed at both yourself as well as L&M.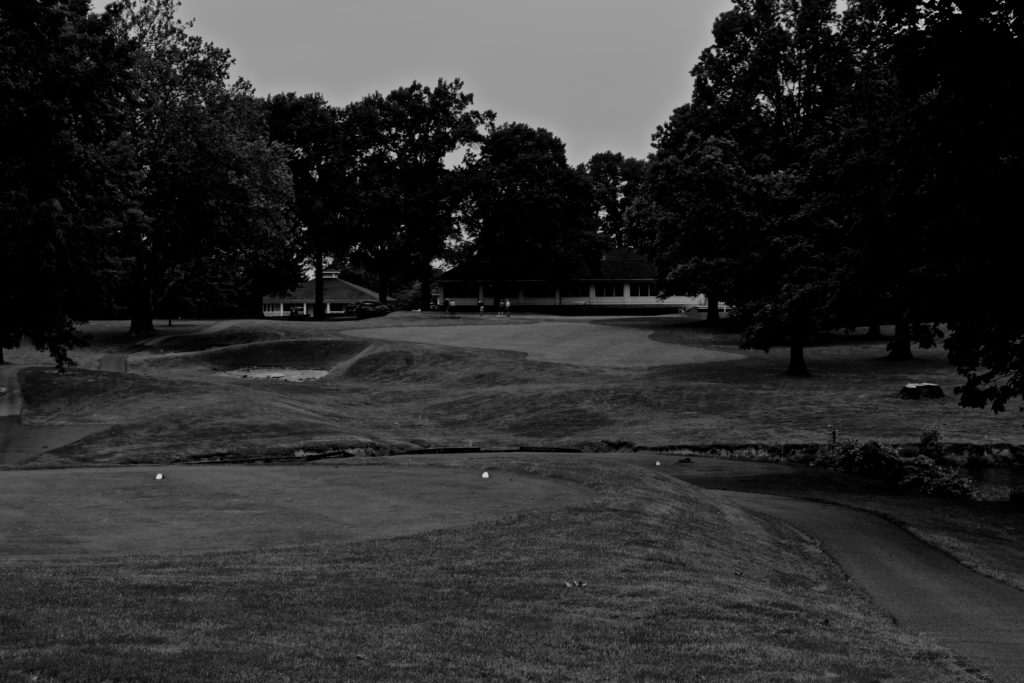 This is not to say the duo were opposed to manufacturing where they saw fit. The height of the second green increases the farther back you go. The front-left includes a small bunker, and the back-left does not, which doesn't take from its bite. The image below doesn't show anything nearly as dramatic as the aforementioned Lawsonia, but it's obvious that L&M didn't simply flatten the top of a natural mound. Of course, in Southwest Ohio, there's always the chance you could flatten the top of a Native American burial mound but WE'RE JUST KIDDING, DON'T DO THAT.
It's important to note that, although the pair certainly elevated their greens, the greens at Clovernook aren't necessarily "elevated" in the purist of architecture-snob senses.
Confused? Let's compare with Donald Ross, whose elevated greens have made miserable many an infrequent golfer. Ross frequently built his greens atop mounds, which were raised in such a way that they stood in obvious contrast to the preceding fairway; this placed more emphasis on loft of approach, and discouraged run-ups (i.e. Pinehurst No. 2). Clovernook's greens have been built up, but L&M also built up the last stretch of fairway to create a smoother transition upon approach. If you look at the green head-on, you could be fooled into thinking everything is "normal." Look from the side, however, and you'll realize the drop-off at the edges of the fairway become more dramatic as you approach the green. Sure, the bunker pictured below is greenside, but approaches just a tad too-left will funnel into it. Even shots that don't reach the bunker result in much more challenging up-and-downs from 20 yards in. Accuracy, not method of attack, becomes key throughout the hole; It is possible to score from both ground or air…just don't miss in either case.
Naturally, the pair isn't afraid of taking their dramatic shaping to the greens. Clovernook's ninth hole—a 470-yard Par 4, and the toughest hole on the course by our esteem—brings it all together. The depth from green-to-bunker is not the most pronounced on the course…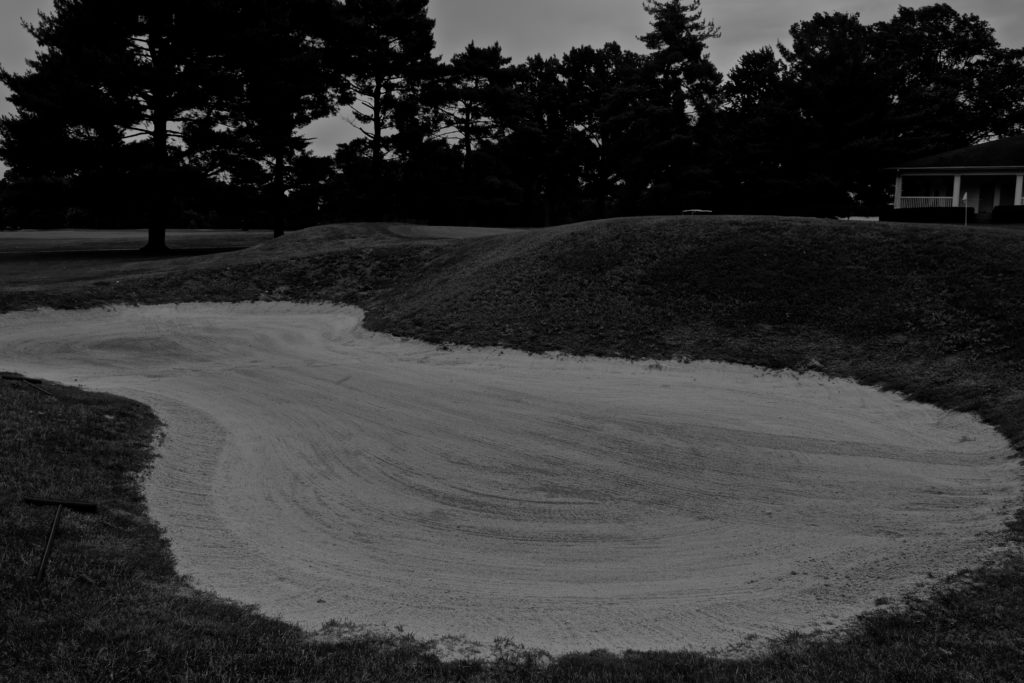 …but it would be cruel to force a player to come out from six-feet down onto a green shaped like this one. The huge swells front-left and back-right make for many an intimidating flag location. Eyeing the pin placement (and consulting with your accompanying member) is essential to finding a reasonable putt. Even then, we'd suggest that multiple rounds are required to learn how to handle the first swell…(and maybe don't try the run up on this hole in particular).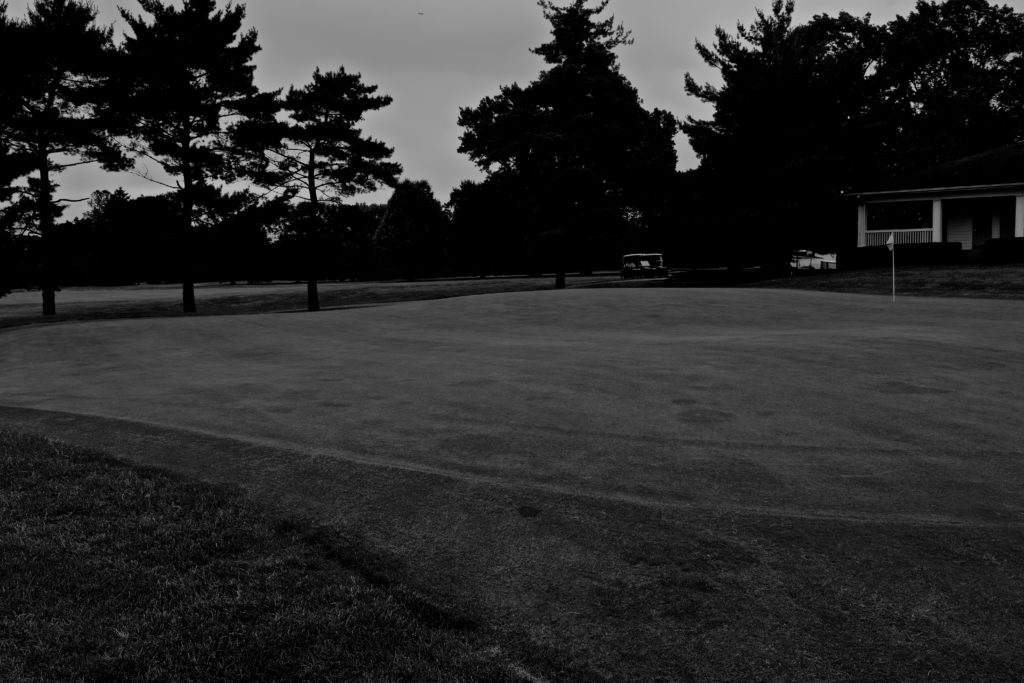 Langford and Moreau didn't receive bids from anyone hoping to host a major, and accordingly none of their courses have hosted one (Skokie in Chicago hosted the U.S. Open in 1920…but L&M didn't do any work there until 1938). This means, unfortunately, that many of their courses remain off the lists for avid golf travelers. The excitement for Lawsonia (and the private Culver Academy) hopefully precedes a new interest in the lesser-known duo of the Golden Age. As Clovernook indicates, the pair's unique designs are hiding in plain sight.