It's a good week to discuss alternate holes. Not even alternate routing. Alternate holes. To call any golf course "perfect" is a huge overstatement (just don't suggest Augusta National is "imperfect"…it will lose you a media pass). Some championship complexes are blessed, however, to feature multiple courses that, while not on par with the entirety of the headline route, feature a few holes to give pause to their brethren.
This applies particularly to our namesake, the Blessed Black Course of Bethpage. And we're not just talking about no. 18. But we'll come back to that topic when the time comes near (and it approacheth).
Let's focus instead on this week's tournament—the Wells Fargo Championship—and its host, Quail Hollow Golf Club. "Quail Hollow does not have a second course," you say. "This is an exercise in futility / stupidity." Perhaps. But there was once a better closing hole for Wells Fargo, ever so briefly, during 2017. Here's what happened: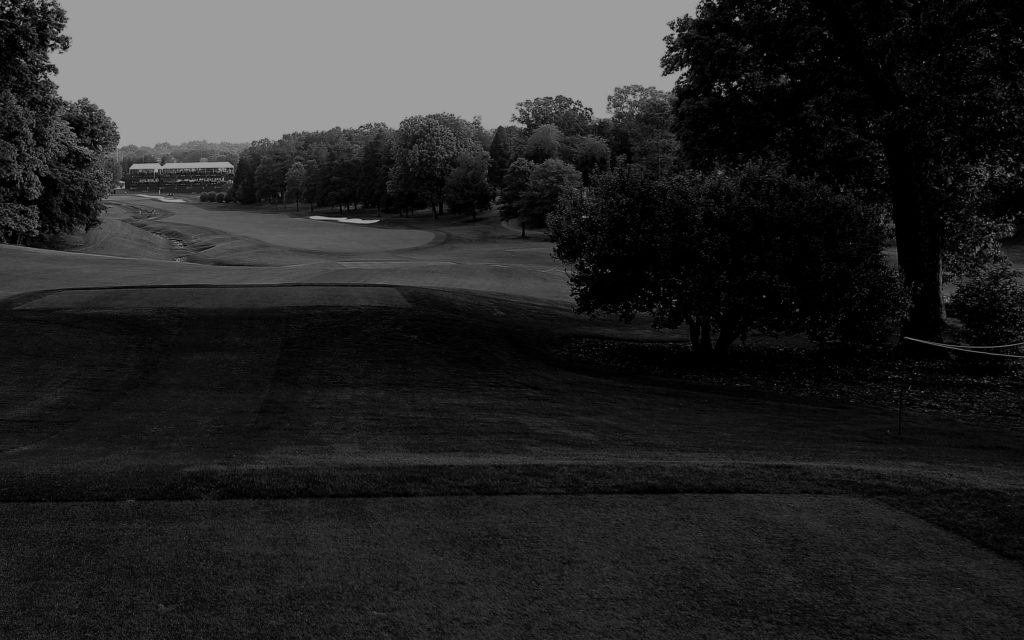 Quail Hollow hosted the PGA Championship, so Wells Fargo decided to head to the coast that year, to Eagle Point Golf Club in Wilmington. Quail is ultimately the better, and stiffer, test for PGA pros. But the stiffer part may be a problem when it comes time for closing.
Naming trios or foursomes of golf holes tends to follow the wrong train of thought (we understand the nicknames come after the course has already been designed, of course). "The Bear Trap" is something to be survived. "The Snakepit" is something to be survived. And similarly, Quail's "Green Mile" final trio of holes is something to be survived. "Amen Corner" sets a better precedent: one hole to survive (No. 11), one hole that tests the nerves if not necessarily the skills (No. 12) and one hole to make a move (No. 13). TPC Sawgrass does the same in its final three, albeit in a different order.
Quail features a gut check of a Par 4 (No. 16, a 506-yarder that employees an approach almost as scary as the aforementioned White Dogwood), a gut-check of a Par 3 (223 yards to a peninsular green) and finishes on another gut-check of a Par 4, playing nearly 500 yards uphill while a creek winds down the entirety of the left side.
That's some people's cup of sweet tea. And the George-Cupp-designed-Tom-Fazio-tweaked Quail Hollow certainly bills itself as tough. It played as the second-toughest course on the 2018 schedule (it's tough fighting against Shinnecock for the "biggest bully" prize).
We can't soften up every hole on the course, of course. But if the closer offered a more equal chance at gaining strokes? That heightens the experience.
Especially at a tournament like this. In the past decade, only three Wells Fargos have been won by multiple shots (Rory McIlroy's margins of 4 and 7 during 2010 and 2015, respectively, are huge outliers). It's gone to a playoff four times during that span, the most epic of which had Rickie Fowler shaking off McIlroy and D.A. Points during 2012.
A history of close finishes demands an opportunity for that guy who's one back to make a last-second dash. Or the more aggressive of the tied players to friggin' go for it.
And that's what you get at Eagle Point.
The first disclaimer, is that Eagle Point closes with a Par 5, which is always going to offer more scoring options than a non-drivable Par 4. But there's still significant advantages to its design for competitive purposes, where No. 18 at Quail Hollow is lacking. Let's start with the drives.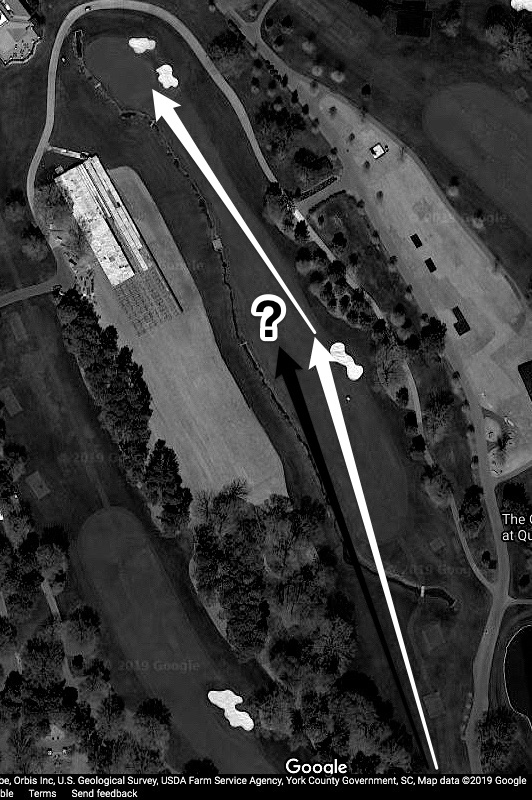 We've already discussed the creek running alongside Quail's left side. From a strictly strategic perspective, it makes sense that playing toward this side would give the player a better angle at the green, against the risk of landing in the water. But that's just not at all the case. Instead, players are rewarded for going right. Granted, there's a bunker on the right side, playing about 275-300 off the tee. A risk, but not so diametric as the leftward creek.
Eagle Point has a much less scenic tee shot, but one more strategically sound. A long bunker runs up the left side, from 290 to 320 off the tee. This offers the better approach, but playing to the right side of the fairway is the much safer option of the tee.
We've pretty much defined the approach on Quail Hollow's No. 18, but here are the numbers: If you drove 300 yards to the right of the fairway (why would you drive anywhere else?), you'll be looking at 195 into the green, and it's not an easy shot. Uphill, with two bunkers to the immediate right, the creek immediately left, and only 27-yards of width separating them. It's a do-or-die. The final pairing is either hoping to survive for the win, or that their opponent stumbles for the loss. It's unlikely either is thinking "kill."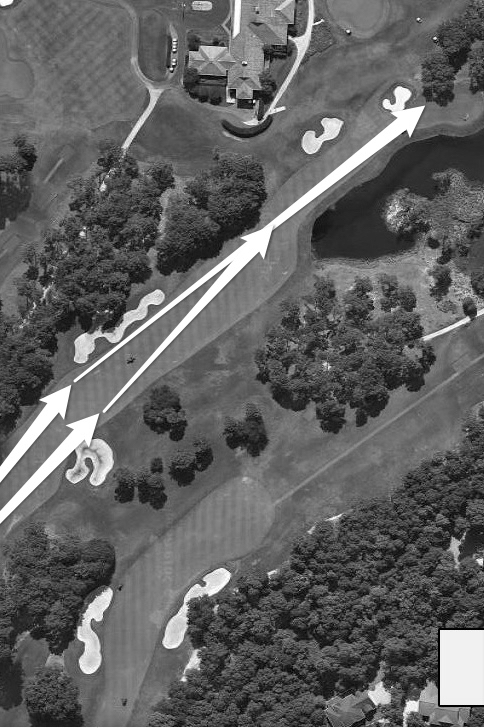 So now we've got the approach at Eagle Point. Again, a Par 5, so there are options. Unfair comparison? No way.
After a 300-yard drive, the player on the left is looking at a 280 yard approach to the center of the green (as you know, most of the guys in contention can go well beyond that arbitrary 300 number). The distance is about the same from the safer right side of the fairway…but that would also mean flying 80 yards-worth of pond that tucks in front of the green from the right. Laying up to about 125 yards out is the reasonable play.
The fairway tightens up about 100 yards out, forming a corridor maybe 20 yards wide. It's not realistic to run a ball up (a large bunker, greenside front-left, doesn't help), so an eagle attempt needs to come from the sky. And numbers from the course's one Wells Fargo Championship shows it was possible, if not realistic. Two eagles and 90 birdies, against 58 bogeys, and eight double-or-worse. Compare that to the closer at Quail's 2018 Wells Fargo numbers—just 48 birdies against 131 bogeys, and 22 double-or-worse.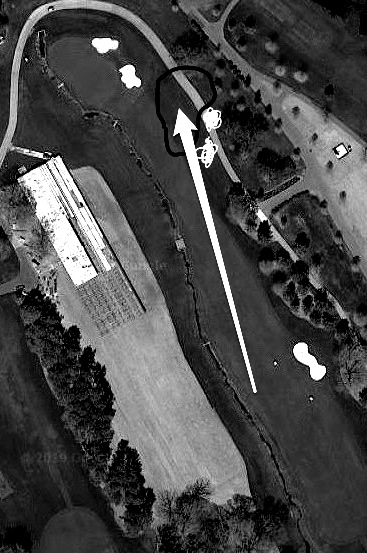 We have an oversimplified solution to make Quail's closer both more entertaining and more strategic.
We're not making it a Par 5; the course simply doesn't have the room to back up the championship tee box. But, by alternating the green from its current right-to-left orientation to a left-to-right angle, wonders shall be achieved.
We understand why George Cobb placed the No. 18 green where he did. That creek looks cool, and the allure of a waterside green can be too much for too many designers. But the creek overstays its welcome in this case, setting up the strategically unsound hole we see today. Alternating the green's direction will take the creek out of the approach, but nor for the worse. The current two-bunkers-right mindset can be rejiggered (with new bunkers) to create a reverse-redan approach. This means those who drive closer to the creek from the tee will be rewarded with the better angle, as good architecture intended. Furthermore, this will bring a bit of North Carolina heritage to the design. Donald Ross is by-and-far the state's most prominent course architect, and the new green angle will display one of Ross's greatest tenets; calling for one direction off the tee and another upon approach. Currently, the best play is right-to-left off the tee (just not too far left) and then right-to-left again into the green. Our brilliant new concept would call for a left-to-right into the green, bringing some Ross basics to Cobb's visually-appealing original design.
Still a tough hole? Yes. But by removing threat of an outright penalty from the approach equation, those in contention are inclined to ascend rather than hope for the leaders to descend.