We're not going to spend too much time on the intro this week. Here's the gist: Before the fortunate Tiger-Rory matchup at the WGC-Dell Technologies Match Play event, you were going to watch the NCAA Tournament. The tournament at which your bracket has already fizzled out spectacularly. Texas, host of the Dell, is one of FOUR states featuring multiple teams in the Sweet 16. This suggests A) your state probably needs to figure out basketball and B) the NCAA Tournament is similar to The Masters in that people with absolutely no reason to watch it still will because "America" and "sports."
So we're desperately aiming to grab your attention by taking those 16 remaining teams and basing the bracket on the golf "available" to hometown fans (private clubs included for consideration). Seeding remains the same. The only catch is this: You can't rely on the same course twice. So, for example, Augusta University wouldn't win out based strictly on Augusta National. It could probably get a few rounds in, thanks to the under-appreciated Augusta Country Club, but depth is key here.
Also, we realize that by the time we publish this, 12 of these teams will be eliminated. We're sorry. We hope your team does better here?
ROUND OF 16
Duke University vs. Virginia Tech University
Duke is dead in the middle of Donald Ross country, right? Well, no. As a matter of fact, North Carolina's quadrant of ACC powerhouses is a decent distance from Pinehurst and Ross's most dense body of work. That said, they can rely on the Scot's nearby Hope Valley, as well as the school's Duke University Golf Club, which was designed by Robert Trent Jones. Virginia Tech counters with its own home course, the Pete Dye River Course. Not Dye's best River Course, but good enough for Tech to save its big guns for the Elite Eight. WINNER: VIRGINIA TECH. 
Louisiana State University vs. Michigan State University
Louisiana is not a state renowned for golf. Michigan is a state renowned for golf. Hence the at-first-glance upset pending here. Even for Southern Michigan, Lansing is relatively lacking. Chris Lutzke's public Eagle Eye track is the best in town, and more than enough to handle LSU's home University Club. The Baton Rouge-based Tigers get out of the first round thanks to the Country Club of Louisiana, where Jack Nicklaus used a strangely-sensitive hand, withholding bunkers from five greens. WINNER: LSU
Gonzaga University vs. Florida State University
Another misleading matchup based on geographical misinterpretation; Florida State University resides in arguably the worst-placed state capital, Tallahassee, eons away from the golf-friendly state's center / relevant cities. It's lucky to at least feature the Capital City Country Club, a rare southern A.W. Tillighast layout (he was probably on a Spring Break bender away from Panama City). Gonzaga is far from Washington's alluring coast…but that doesn't mean it can't reach just across the border to Coeur D'Alene's namesake course, visually appealing if tourist-y. Or, better yet, Circling Raven, another appealing Idaho public. Seminole is, alas, nowhere near the Seminoles. WINNER: GONZAGA
Texas Technical vs. University of Michigan
Easily the toughest match of the first round: Texas Tech is the home team this week, located near Dell Industries' host, The Austin Country Club, but its home course is almost as impressive: The Rawls Course offers the Red Raiders a Tom Doak design to hone its skills. Although the Wolverines don't have a home course quite as nice, they've still got pretty decent option. Two, in fact. Alistair Mackenzie designed the University of Michigan Golf Club, while Pete Dye contributed the Radrick Farms layout. Tipping the match to the Maize is Barton Hills Country Club, a Donald Ross number that tops the list of Ann Arbor entries. WINNER: MICHIGAN
CORRECTION: A reader pointed out that Texas A&M is nowhere near Austin. This is especially embarrassing because we know this. Everybody knows this. But somehow we just kept on righting (OK, we did that last one on purpose). As Texas Tech's fictional proximity to Austin didn't allow it to move forward, we didn't see the need to amend the error. Please, revel in our shame.
University of Virginia vs. University of Oregon
Ha, no! The University of Oregon does not get to use the Bandon Resort for its purposes! We are, however, willing to let it use the coastal design of Rees Jones' Florence Golf Links course, however. Virginia's Cavaliers will rely on the multiple courses from Fred Findlay at Farmington Country Club, which forces a counter from the Ducks in the form of Eugene Country Club, whose logo's minimalist design is arguably the coolest in golf. Many will complain against all the trees in this parkland-style layout, but few courses look as good doing it. At the end of the day, Thomas Jefferson didn't golf, and Oregon spawned Nike. WINNER: OREGON
Purdue University vs. University of Tennessee
Ooh boy…this one's going to come down to a clash between Hall of Fame architects. Pete Dye, no doubt disappointed that his preferred Hoosiers haven't been significant at basketball for some time, bequeathed two course to fellow Indiana Big-10 member Purdue (the more notable of which is the Kampen Course). The Volunteers, however, rely on Donald Ross to get them over the hump. Cherokee Country Club, on Knoxville's West Side, doesn't hold up against Kampen, but the more acclaimed Holston Hills breaks the opponent's back. Holston is hardly one of Ross's most acclaimed, but many consider it to be among the best preserved of the bunch. WINNER: TENNESSEE
University of North Carolina vs. Auburn
North Carolina has a lot of great golf courses. They're just not in Chapel Hill! Jack Nicklaus's Governor's Club gives Tarheels something to be proud of, outside of their Confederate-era nickname. Alabama is a less-acclaimed golf state, but against competition this shallow, it can always grab a Robert Trent Jones Golf Trail entry from somewhere. And so Auburn does, tapping Grand National's Links 'n' Lake courses to get by. WINNER: AUBURN
University of Houston vs. University of Kentucky
Houston is one of several great golf cities in Texas, and it has a number of nice clubs in the vicinity—both a Houston Golf Club AND a Houston Country Club!—but does it have that one stud recruit? We'd argue "no"…Trinity and Bluejack are too far of drives by our reckoning. The Kentucky golf scene is typically dominated by Valhalla discussions, but Idle Hour is the only Donald Ross course in the bluegrass state, and it's also an under-appreciated one in light of the flashier, Louisville-based Valhalla. Don't be mad, Houston fans: We hate UK. Like, really. This doesn't make us any happier than it does you. WINNER: KENTUCKY
ELITE EIGHT
Virginia Tech vs. LSU
Louisiana State University burned through the Country Club of Louisiana on its way past Duke, leaving it with a short hand as Virginia Tech comes to town. Most states have "that one guy" who makes a huge mark locally but doesn't quite find acclaim elsewhere. It's a crowded market, man. Lester George is that guy for Virginia, as his Kinloch layout near Richmond is the state's top-ranked course on most lists. The Hokies will rely on Ballyhack, however, an imitation links that George laid out among the ridges of west Virginia (not West Virginia) to simulate dunes. Might not bounce like sand-land, but it bounces Tech to the Final Four. WINNER: VIRGINIA TECH
Gonzaga vs. Michigan
The Zags pulled a surprise on the less-geographically-inclined readers by reaching across the state border to grab a win. Why would they stop now? In a region packed with scenic golf, Gonzaga can rely on the less renowned Club at Rock Creek to get them through. Lake Coeur D'Alene features perhaps the nation's largest collection of warped, absurdist holes, to such an extent that the 100-foot drop from tee to green at the No. 5 Par 3 almost seems normal. Ann Arbor has one of the stronger collections of courses among the Sweet 16, but unfortunately burned through too many to beat Texas Tech. WINNER: GONZAGA
Oregon vs. Tennessee
No, the University of Oregon STILL DOES NOT GET TO USE BANDON. The Volunteers thank their lucky stars and move onto the Final Four, despite themselves. WINNER: TENNESSEE 
Auburn vs. Kentucky
There are very few things we hate more than the University of Kentucky. And we're tempted to flip the bias switch, removing the Wildcats from the tournament and/or having their team bus take a turn for the Cliff Burton. But we just can't. Auburn flashed two Robert Trent Jones designs during Round 1, and Lexington still has solid club tracks to burn. One such club is Arthur Hills's Champions Trace at Keene Trace Golf Club, currently a PGA host. Surprised? Doesn't ring a bell? That's because the Barbasol Invitational occurs while you're watching The Open on TV. Yes, the PGA still does stuff while the Top 100 are overseas. But hey, Billy Horschel placed in 2018! WINNER: KENTUCKY
FINAL FOUR
Virginia Tech vs. Gonzaga
In what is quickly becoming a free advertisement for the Coeur D'Alene club scene, Gonzaga continues to harvest Idaho talent to propel the Bulldogs forward ("bulldog" and "propel" in the same sentence is humorous). On the cusp of the national championship, they turn to Jim Engh, the king of golf's Wild West for The Club At Black Rock—a club that revels in eye candy, to the point where even the staunchest of design conservatives will acknowledge "OK, that looks cool." The No. 13 Par 3 takes your tee shot past a wall of five waterfalls, but even that seems banal after playing No. 11, where you'll carry a pond, between two waterfall formations to a green tucked into a crater of the club's signature "black rock." It's not Black Metal, but Black Rock is heavy enough to get the Zags into the championship. WINNER: GONZAGA
Tennessee vs. Kentucky.
God. Damn. It. The Griffin Gate Club carries Lexington and the University of Kentucky past Tennessee, which has long since depleted its notable golf club inventory. As much as we hate to admit it, "Griffin" is a fairly metal concept, and this course also benefits from some history, being one of Rees Jones's first solo projects. Fine. Kentucky makes the championship. The good news is that we already know how this one ends. WINNER: KENTUCKY
THE CHAMPIONSHIP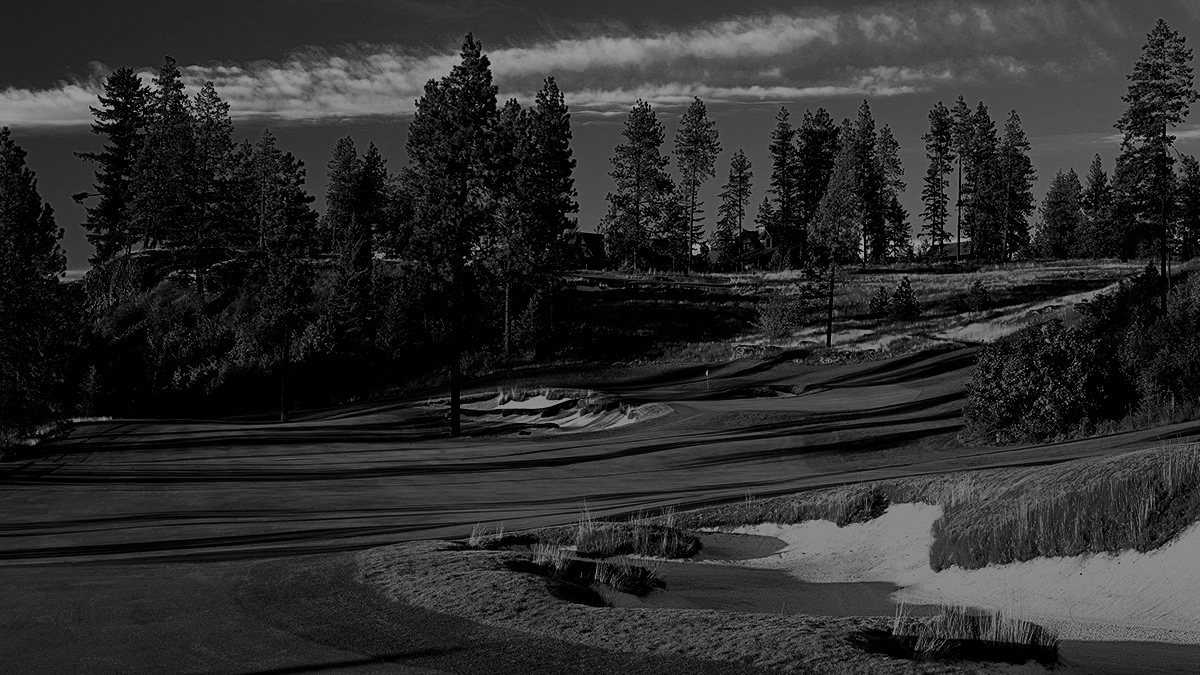 Anyone familiar with the Idaho golf scene knows that Gonzaga has been holding one card in its hand, and now the time comes to play it. Many in the golf architecture blogosphere hate Tom Fazio, but none can deny his ability for aesthetics. Give him a pallet like Lake Coeur D'Alene and he's going to score. Gozzer Ranch lives up to its Ghostbusters-demon-tribute title, and does the Wildcats in. Kentucky fought admirably, considering the state's relatively unspoken golf course credentials. But they lost.
Thank the Dark Lord.
Did your team get stiffed? Are you a University of Kentucky fan? Sorry to hear that. You can get it off your chest @BethpageBlackMetal (Instagram) or @BPBlackMetal (Twitter).