Feedback for the BPBM blog suggests that no one actually cares what we say about anything. Accordingly, we're selling out and bringing in voices that maybe—just maybe—you do care to hear from. The Mob Rules brings four more Elder Gods of the Golf Blogosphere to determine the critical fate of one prominent, controversial golf hole.
This week we look at No. 8 at Virtues Golf Club, generally accepted as the top public track in the state of Ohio. Arthur Hills has always been a bit Dye-lite in his approach to design, and Virtues features several wonky concepts, none more so than No. 8. This 444 yd. split-fairway Par 4 offers drastically different options playing downhill to its peninsular green. Left means two forced carries—one over a fescue grass area and no. 2 over the lake—while right actually plays uphill before diving all the way down. It looks strange from a drone, and it often plays strange as well.
We're pleased to have conned into contributing:
The concept is this: There are controversial holes in golf and no honest way to grade them. The best we could figure was to give four experts the same "thought-provoking" questions and see where we ended up.
"Yup" or "Nope," and why?

"But to be fair…" (requiring guests to consider the opposite of their own opinion)

What hole at the course do you like more? (this was optional)
So No. 8…let's see if you're up to par.***
*** = Never too metal to be a Dad.
P.J. KOENIG (Instagram: @pjkoenig)
"Yup" or "Nope," and why?
"Yessss. Options and undulation. You get several choices on where you want to hit your second shot from. You also have to consider the penalties for poor execution of that tee shot. The undulation on this hole allows for several different types of shots to be played into the green and around the landing areas."
But to be fair…
"Cart paths! Cart paths are awful."
"Yup" or "Nope," and why?
"Like it—I'm a big fan of the eighth hole at Virtues not only because of the dramatic slopes and setting, but because so many great holes share a common trait: options. This dogleg left features three distinct options off the tee. First, you play to the high right side and use the slope in the fairway to tumble your ball forward and down to the left. This is the safest option but will leave you the farthest away from the hole on your approach, and in a situation where you have to judge the distance properly as your approach descends 30 feet to the green. The second option is to try and fly the tree that protects the bend in the dogleg and set up a relatively short shot into the green with the water on the left side being a concern to contend with. Option three requires a big carry over fescue-laden rough on a line left of the tree and directly at the flag. Successful drives will be rewarded with a wedge into the green from a flat lie that will require carrying water before finding the putting surface."
But to be fair…
"To be fair, this hole isn't everyone's cup of tea. If you can't carry your drive long enough to employ option three then you will certainly be left with a fairly severe, uneven lie to hit your approach shot from. That can be an ungracious reward for hitting the fairway, especially when you consider that the green has so much water in play around it.
Worth mentioning…
"While No. 8 is still my favorite at Virtues, a runner-up for the best hole on the property would be the equally dramatic Par 5 No. 4."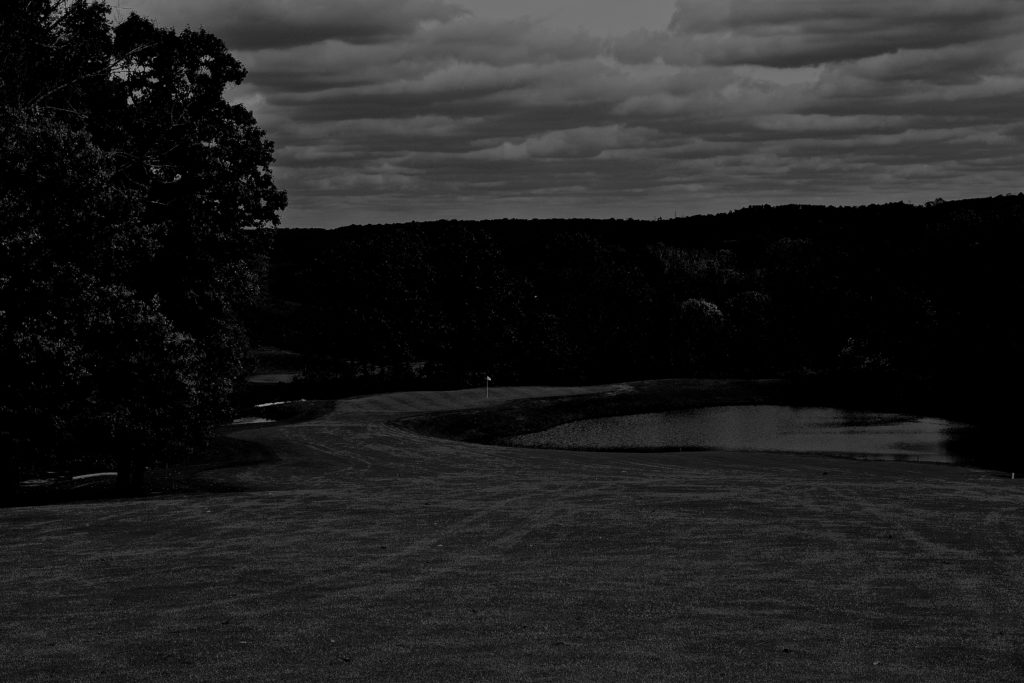 "Yup" or "Nope," and why?
"Yup. This hole straddles the line between quirky and unfair, but I'll gladly take a slightly unfair hole that gives you option, over a safe but boring hole."
But to be fair…
"It's not a great risk/reward because your tee shot left means your approach will be over water, and if you go to the right you'll have an uneven stance with the ball above your feet and water left. It's more risk/different risk."
"Yup" or "Nope," and why?
"Nope…because much of the lower landing area was blind, or we weren't sure about the yardages. Once we got to the approach or green and looked backwards, it made much more sense."
But to be fair…
"I would give it a 'yup' if I went back and played it again, having discovered how to better play the hole."
Worth mentioning…
"No. 6 is fun. Almost driveable, sort of jammed-up if you get too close to the green. Sneaky hole."
"Yup" or "Nope," and why?
Yup…and this is an opinion that sets apart, perhaps, from more academic devotees of golf course architecture. Virtues sells itself for the few quirky holes built into its front nine, and No. 8 is the peak of that. To disagree with it feels a bit like disagreeing with the course itself. The double-dose of heroism required for the leftward approach is either your cup of tea or your cup of vinegar. I've tried playing it from the right in my more recent visits, just for a unique experience. Few Par 4s I know are as drastically different, depending on whether you take the high road or the low road. It's definitely in the Robert Trent Jones 2 vein.
But to be fair…
Although the strategies are different, I wouldn't say one is "better" for the high-handicapper. The high road may actually be, deceptively, the harder one. Hitting it across the fescue "pit" to the left fairway is not a terribly long carry, nor is the following wedge shot across the lake. Still, those shots are visually more intimidating, which spooks the noobs. In reality, the tee shot right is uphill, getting you less distance, and controlling the downhill approach—off of an above-the-feet lie—is tricky business.
Worth mentioning…
Gotta shout to No. 4, probably the "Signature Hole." People come for the 125 feet of descent from tee to green, but they come back to try bettering their last attempt. Played intelligently, this Par 5 doesn't actually deserve the top handicap ranking (that should go to the Ross-ian No. 13). But if you hit a 300-yard drive (more likely than usual with these tees), eagle-through-double are options depending on your approach to this reverse redan-style green (note that the bunker is a pond in this case).
So it looks like our panel has come out in support of Virtues No. 8. Got an opinion that violently opposes that of our panel? Start a flame war @bethpageblackmetal (Instagram) or @BPBlackMetal (Twitter).