UPDATE: After this post was published, Shadow Creek launched the new, not-crappy version of its website, in preparation of the Tiger-Phil bonanza on Black Friday, no doubt. We have noted where changes apply. Although the site is greatly improved, we still need to LOLz at the celebrity titles provided for each hole along the course tour. Julius Erving is now "NBA Icon Whose Slam Dunks  are The Stuff of Legends" (caps sic), Wayne Gretzky is a "20-year NHL Player Known as 'The Great One'" and Jerry Weintraub is a "Well-Respected Hollywood Executive and Philanthropist." Descriptions of the holes themselves…non-existent. 
Bethpage Black Metal is, at its heart, a blog that focuses on golf course design. And it is under this more-general-than-you-expected unique value proposition that we must address the website of Shadow Creek.
The course is in news this week, of course, for playing host the the Tiger-Phil $10 Million Showdown. Frankly, it's the perfect venue. Las Vegas is exactly where a title-belt style duel should take place, and Shadow Creek is generally accepted as the best in the city/state. Second, it's got experience hosting crowds*, as with Michael Jordan and Derek Jeter's past celebrity invitationals. Finally, and most importantly, it's over-the-top. Had we been blogging in 1992, we would be surprised that Tom Fazio didn't build an active volcano/Sphinx with the blank check Steve Wynn gave him. The final product is actually fairly classy compared to his work at the now defunct Wynn Golf Club downtown. Still, the exotic flora and imported peacocks make it a more eye-popping venue for a heavyweight fight than any of the more rational courses used for Woods's Monday Night Golf series.  
* Ha, just kidding general public: You aren't invited.
Unfortunately, that unlimited budget left Wynn—as well as MGM Resorts, its current owner—without the money for a website of any repute. As someone who works for an advertising / web development firm, I can attest that this is a terrible website. [UPDATE: It's OK now!]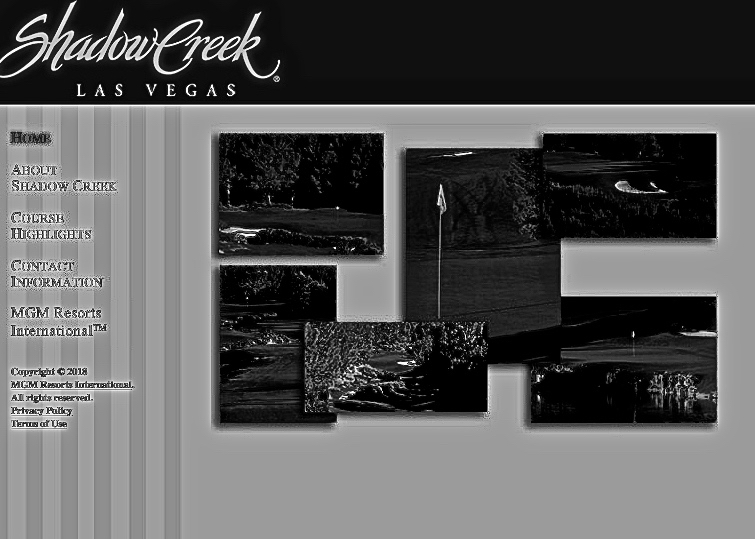 _________
Compare the homepages of Shadow Creek with my casual "home" course, the esteemed Willow Run of Pataskala, Ohio.
Shadow Creek costs $500 to play, and will probably make the jump to $750 after the hype generated by Thanksgiving's big event. Now guess at how much a walking round at Willow Run is, based on the superiority of its website. $750? $1,000???
$17.
Shadow Creek's website has a designer's touch on par with Nattram, a guy who has only— depending on who you ask—pig's feet for hands. That makes using a mouse tough. [UPDATE: "Had" a designer's touch on par with a pig-handed guy! It's OK now!]
I get it…a golf course does not need a website to be a smashing success. Pine Valley has no need for your "website." Of the Columbus "Big 4," only Scioto Country Club has a reasonable site available to the public. The Golf Club, no. Double Eagle, barely. Muirfield Golf Club dodges the question by hiding behind the Memorial Tournament site.
These are all private golf clubs. Shadow Creek is public, to some degree, and one would think that a course that has—and we cannot emphasize this enough—goddamn peacocks, would be interested in putting forth a shiny face. Every other piece of MGM property in Vegas has a site suitable for 2018, including both its Reflection Bay and DragonRidge golf courses (the latter of which is private).
The difference is that Shadow Creek has no real interest in being public. If anything, it's public only so that it doesn't need to deal with local members insisting upon tee times (there's a membership, but it's by invitation only. Coincidentally, most invites go to out-of-towners), and taking the course much further than its ascribed 40-rounds-per-day. Therefore Shadow generates the kind of mystique that a Pebble Beach can't ("aura" and "mystique" are different). The garbage website only builds upon this strategy…a few photos to induce salivation. [SERIOUS UPDATE: The new photos are gorgeous] 
Fair is fair. But nothing excuses the acres of space that serves no role but to blind web designers with its white void. You tee off toward the monumental fairway at St. Andrew's opener, and you're rewarded with a unique approach and challenge no matter where it ends up. You scroll onto Shadow Creek's homepage and, as you follow the five beige lines from the site's circa-2005 WordPress template into oblivion, you wonder to yourself if you'll ever be able to find your way back to the internet. [UPDATE: The void has been removed! No word on whether the lost users were found, however]
Anyway, MGM, shoot me an email if you want help getting a new site off the ground. Everybody else, eschew your hatred @BPBlackmetal.